Sector Delegate 2023

Fr Uesili Manu SM

PO Box 223

Buka, Bougainville Province

Tel: 675 973 9227 mob: 675 7452 4990

email: This email address is being protected from spambots. You need JavaScript enabled to view it.
HISTORY
In 1898, Bishop Pierre Broyer SM, vicar Apostolic of Samoa, was charged with establishing new missions in what was then called the North Solomons.
Marist Frs. Karl Flaus and Eugene Englert were sent from Samoa to begin the new mission. They were greatly helped in this work by two Samoan catechists, Kario and Lino. They founded their first mission at Poporang in the Shortland Islands.
In 1901 they established their second mission at Kieta. Over the years 30 missions were established on Bougainville, Buka, Nissan and the Caterets.World War II was a difficult period as the Japanese invaded and occupied the Region. Five Marists, three priests and two brothers, were killed, others were interned.
A period of great vitality followed on from the war as the missions undertook the work of reconstruction of churches, schools, health clinics and convents.
A further period of much difficulty was experienced in more recent years because of the Bougainville Secessionist movement from 1988 to 1997. Many people died as a consequence of the conflict, relationships between the various groups involved were fractured and every aspect of life was affected.
Marists have been involved in the work of reconciliation and re-establishment of political, social and economic structures still continue.
The necrology of Oceania Marist Province shows that more than 80 Marist missionaries, now deceased, worked in the Bougainville Region.
WHERE WE ARE IN BOUGAINVILLE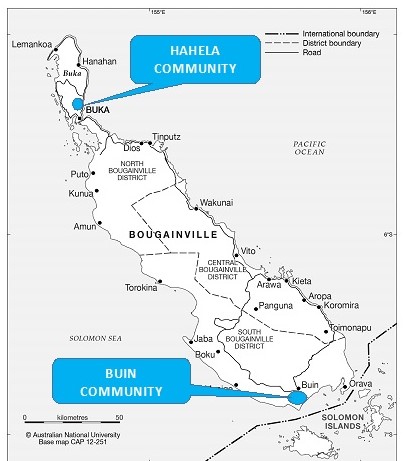 HAHELA COMMUNITY 2023

Fr George Baruka sm

Fr Austin Magara sm

Fr James Hapuak sm

Fr Tony Nawata sm

Fr James Mokela sm

Parishes responsible for: Gagan, Hantua, and Tearouki / Tinputz
BUIN COMMUNITY 2023
Fr Wesley Manu sm

Fr Robert Taria sm

Fr Richard Harui sm

Fr Steven Posirou sm

Parishes responsible for: Turiboiru / Tabago / Piano / Tokaino