Diaconate Ordination
On 9th March, eleven (11) deacons were ordained by His Grace, Archbishop Peter Loy Chong, in the Cathedral of the Sacred Heart, Suva. Four (4) of them are Marists (Viliami Kiola, Iosefo Vili, Pio Ravu & Mikaele Misinale). Three (3) are from the MSC (Missionary of the Sacred Heart), One (1) from the Columbans, and three (3) diocesans for the Archdiocese of Suva.
The Cathedral was packed, both inside and outside, with the families and the faithful. Many families have travelled from various Islands in the Pacific to be with their sons on this special occasion. This group of deacons may have been the biggest being ordained in the Cathedral. Our congratulations to all the deacons in the ministry of service they were called to.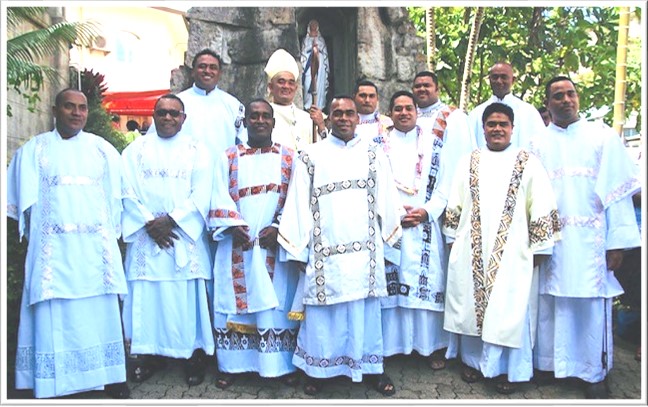 Marist Laity - New Caledonia
The Board of the Marist Laity of New Caledonia brought the various branches of the Marist Laity in New Caledonia for an annual Marist Conference. They are holding this conference every second year.
For the first time on Feb 23, a recollection day was proposed and directed by the Sector Delegate, Fr Bill Herket sm. Quoting Fr Francois Grossin sm, "It has been such an inspiring gathering that another day has already been planned in two month's time. A good start indeed."