Oceanians at General Chapter
Thanks to the photography of Assistant-General, Fr Alejandro Munoz, we have glimpses of our Oceania Province confrères at the General Chapter, Nemi, Italy...
Above, from left: Frs Susitino Sionepoe (vicar-provincial), Lote Raiwalui (assistant-general), Ben McKenna (provincial), Setefano Mataele (provincial-elect) and Lutoviko Manu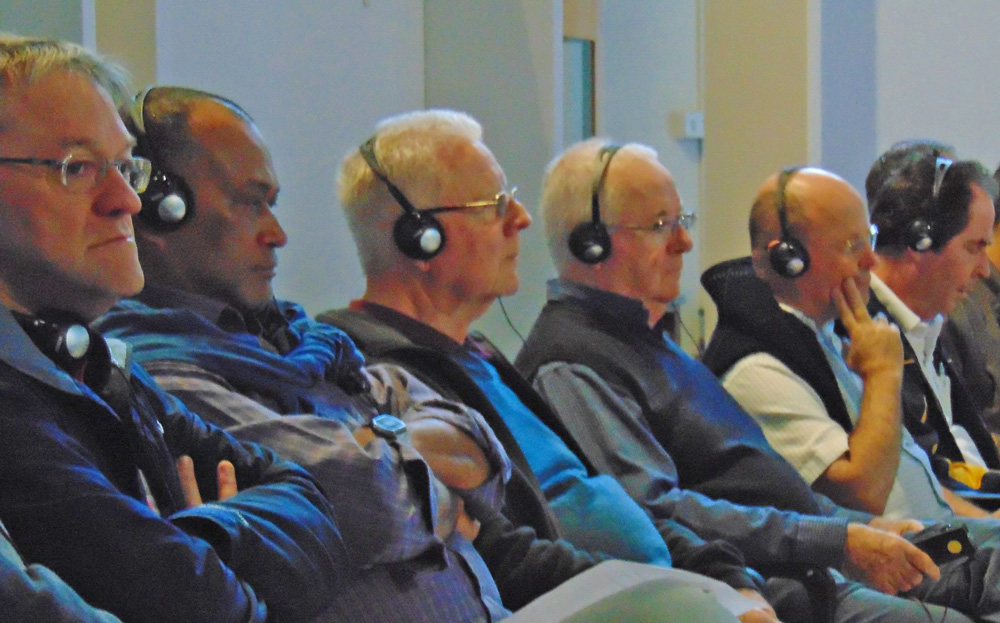 Bomana finance workshop ends
Fr Xavier Sariman reports on Sep 14: We finished today with a mass and receiving of certificates.
It was a very intensive month but it was at the same time very enhancing. We learnt registering, reporting, as well as using excel and some information on investments, currency exchange, writing cheques, depositing, and writting project proposal.
All in all, it was an educative and challenging week. God blessed and happy feastday of the exaltation of the cross.
Fr Austin Magara adds: Thank you so much for your support and sponsor towards our participation in the Finance Management Course.
The photo of our graduation today reflects the joy of our achievement after one month at Xavier Institute.
Personally the course is an excellent development program and is an enormous opportunity to build knowledge in financial skills in the Marist province and regions in Oceania.
Finally, we the three Marists (Xavier, George, Austin) have what we were looking for, and are willing to work in a dynamic organisation and that is the Marist Oceania.
Fr George Baruka: It has really helped me in getting more skills. I really appreciate this. It has helped me in a way that parish management, time and money that will bring to be transparent in what we look after and manage. Once again thank you so much... I happy to have this skill.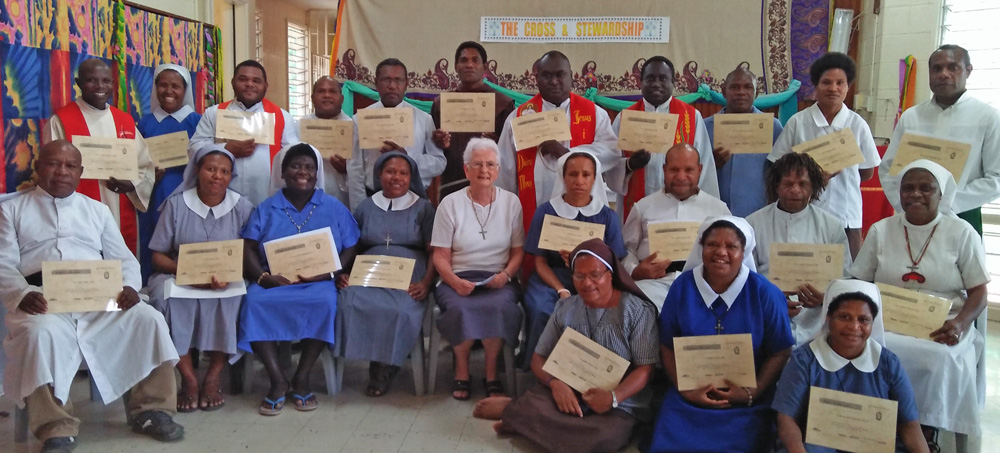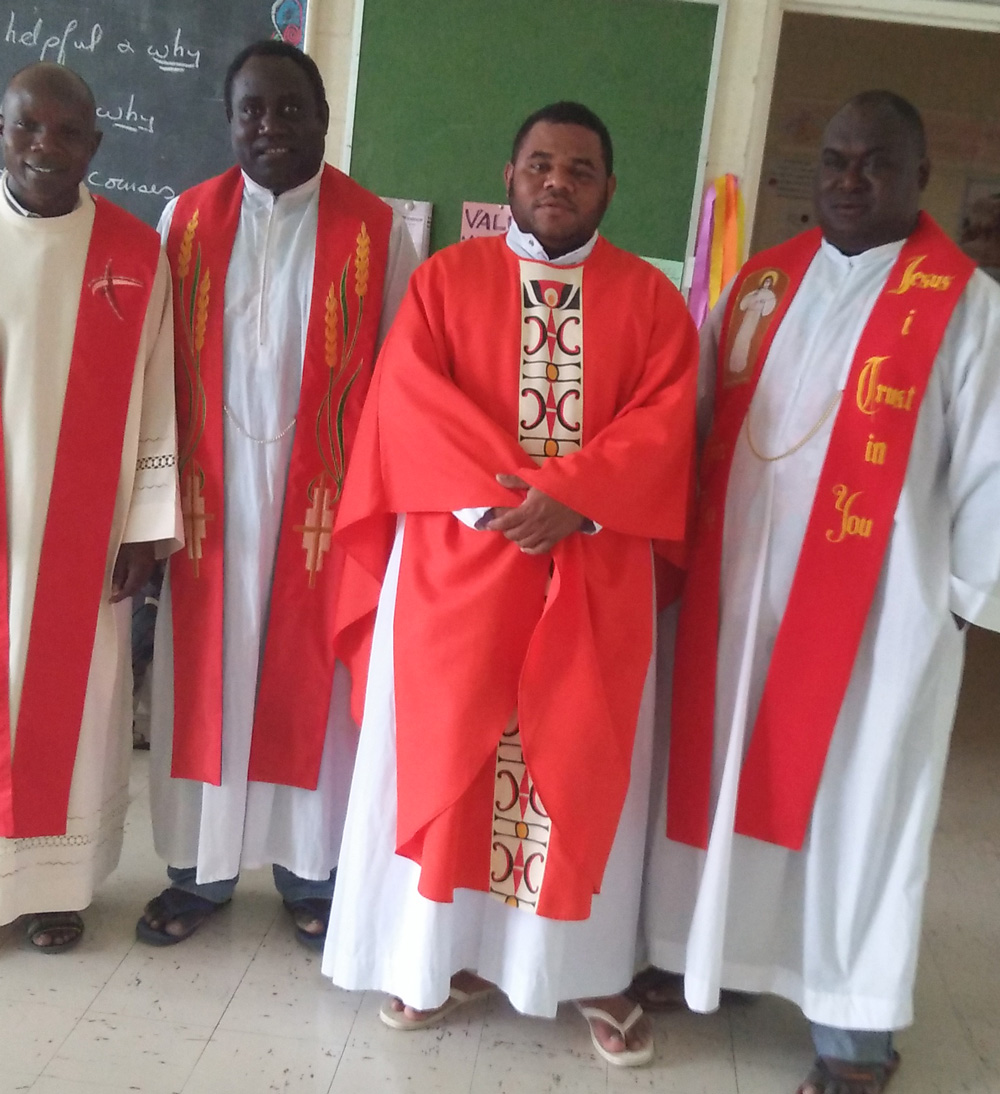 Holy Name of Mary in Hahela
Fr Wesley Manu (bottom right) sends this photo of the group celebrating at the Regional house, Hahela, Bougainville, Sep12.
Holy Name of Mary in Hohola and Kanosia
Fr Austin Magara reports:
We the two Marist communities(Hohola & Kanosia) celebrated the feast With mass in our respective communities.
The Kanosia community later joined with Hohola in the afternoon of the same day.
Sr Grace CSN led our recollection which for the first time it was very good having a nun leading us. Later we shared meal together in the evening.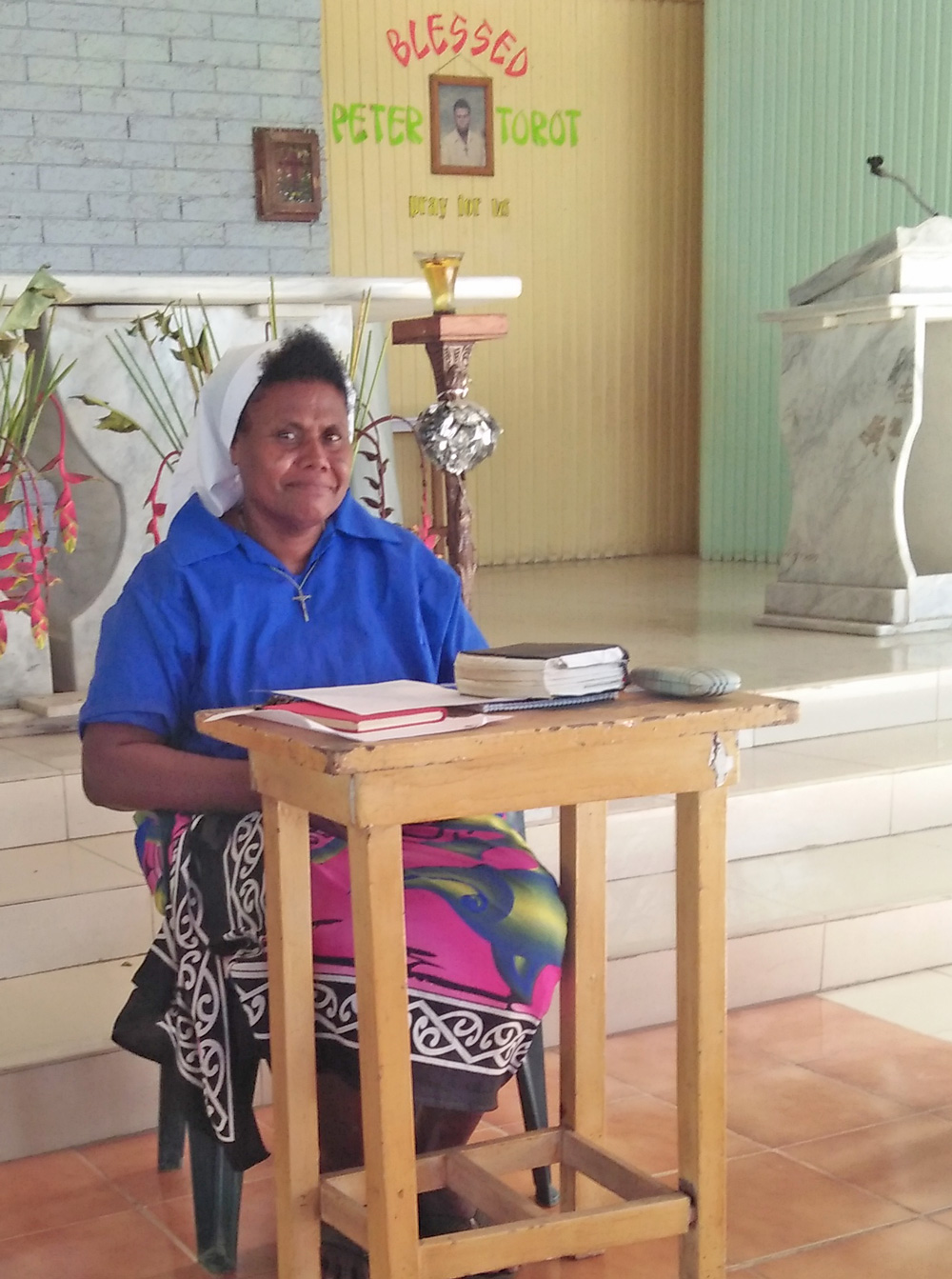 Holy Name of Mary in Noumea
The spacious Espérance church built on top of a hill overlooking the Domestic flights Airport at Magenta was pretty full for the 6:00 pm Eucharist led by a group of Young Marists called Speranza Marista, and presided by the Regional Superior, Fr François Grossin who gave the homily.
Fr François was accompanied at the altar by 3 out of 4 Marist priests of the South Community, a diocesan priest and a couple of permanent deacons.
With the forthcoming General Chapter in Rome and the bicentenary of the Marist Sisters in early October in France, the event had a special flavour this year. All of us had good reasons to thank God and Mary for our Marist vocation and ask for their blessings on our journey on the foosteps of our beloved first and perpetual Superior.
The enthusiasm of the Young Marists was striking and a source of encouragement and hope for all the participants.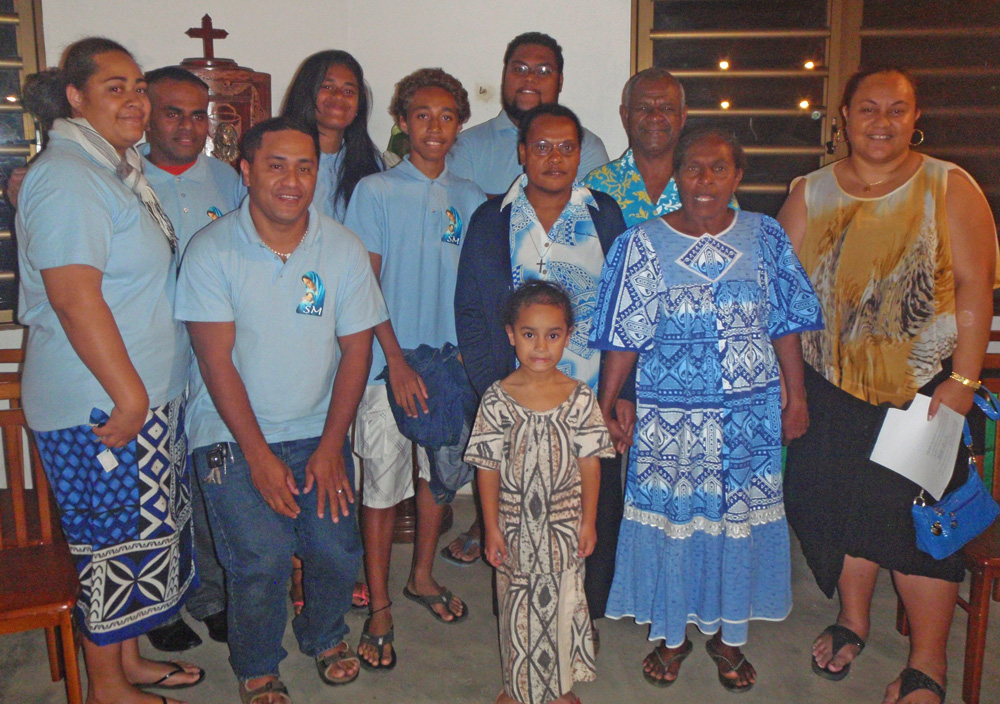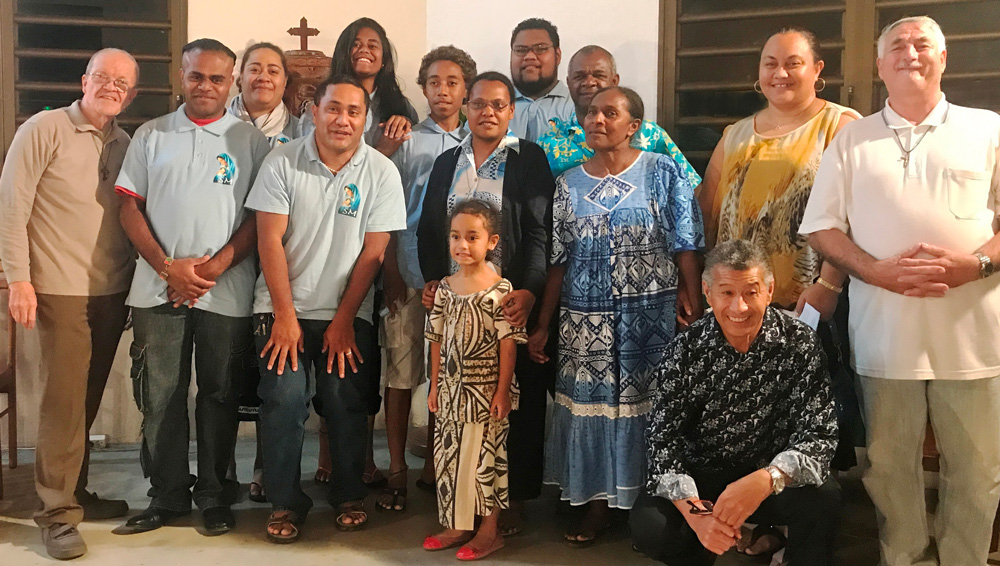 Above: Suzanne Kono, president of the Marist Laity Board, and Sr Jeanny Laku smsm, with some Young Marists after the Eucharist. | Fr François (left) with the group.
CEPAC meeting, Lomeri
16 of the 17 Bishops of CEPAC had their biannual meeting, Sep 03-08, at Lomeri, Marist Brothers Novitiate,Fiji.
Three of the 16 Bishops in the photo are Marists: +Michel Calvet (Noumea), +Ghislain de Raisilly (Wallis/Futuna) and Paul Donoghue (Rarotonga). A fourth Marist Bishop, +John Bosco Baremes (Port Vila) was unable to be present as his Diocese is currently meeting in Synod.
The logistics of the meeting were in the capable hands of another Marist: John Crispin sm, secretary of CEPAC, who finishes his 6 year term this coming December.
For Archbishop Calvet's summary, click here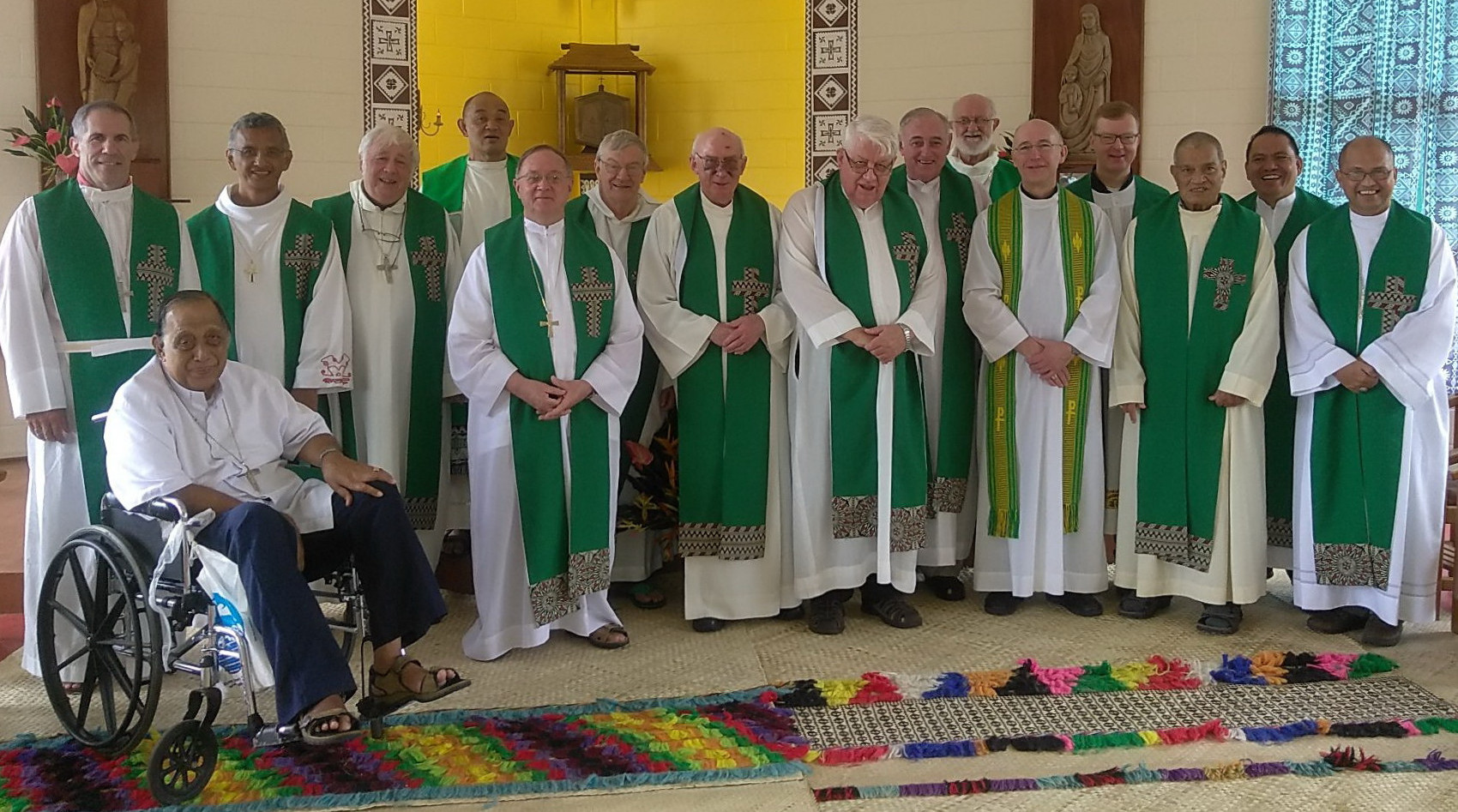 Financial Management Workshop, Bomana
Three Marists in PNG/Bougainville - Frs Austin Magara, George Baruka, and Xavier Sariman have been attending a Financial Management Workshop, at Xavier Institute, Bomana, Port Moresby. It began on 21.08.17 and finishes on 15.09.17.
The course program has focused on financial management skills training to improve accounting systems, reports and records of agencies. This has included practical training in how to budget, read financial statements, conduct a cash flow analysis, manage accounting systems, cut costs, learning how to make good personal and work-related financial decisions, improve reports and records and learn how to write funding applications.
The K2,100 cost for our three participants has been covered by MAP: in support of supporting young Marists in ongoing skills training.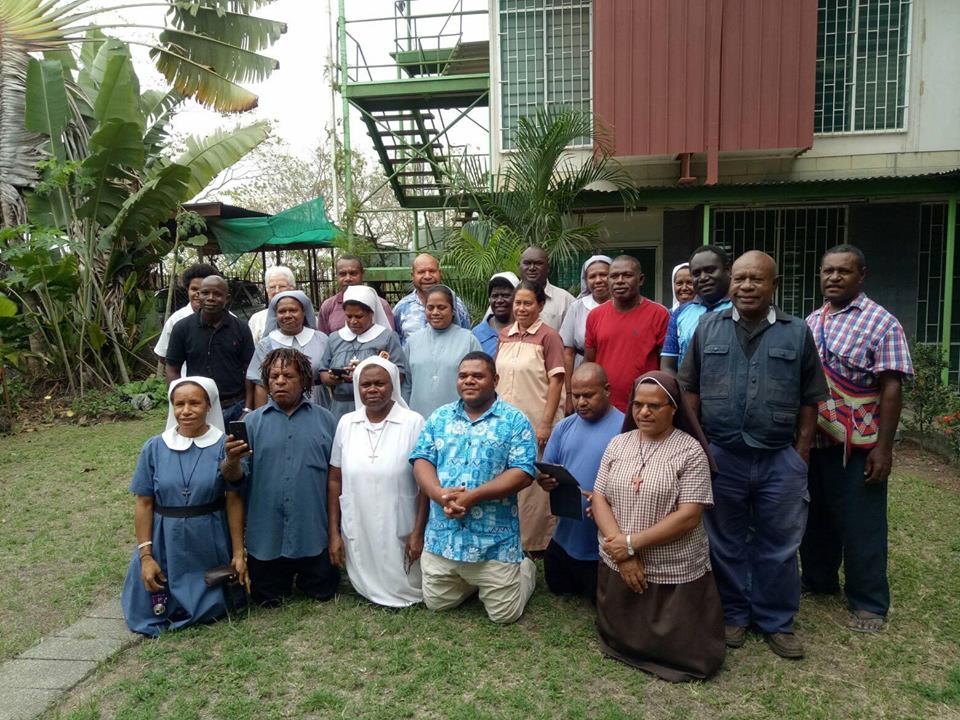 'Oceania Thirty Days'
From Fr Michael Fitzgerald sm, Director, 'Oceania Thirty Days':
This is a ministry of Oceania Marist Province.
Its vision is to build and to deepen the local Church through a profound encounter with the person of Jesus. Its mission is to offer and present the Spiritual Exercises of St. Ignatius.
We first ran the 30 Day retreat at Tutu in 1999. Since 2001 it has been run at Khrist Joyti Ashram. This year is the 19th time that we have presented the Exercises.
Over that period, including this year, 238 persons from the Pacific region have made the retreat. This number includes: 78 Diocesan clergy; 42 Lay leaders; 41 Diocesan religious; 39 other religious; 9 Anglican religious, 2 pious association and 1 bishop. Interested Marist are welcome to contact the Provincial.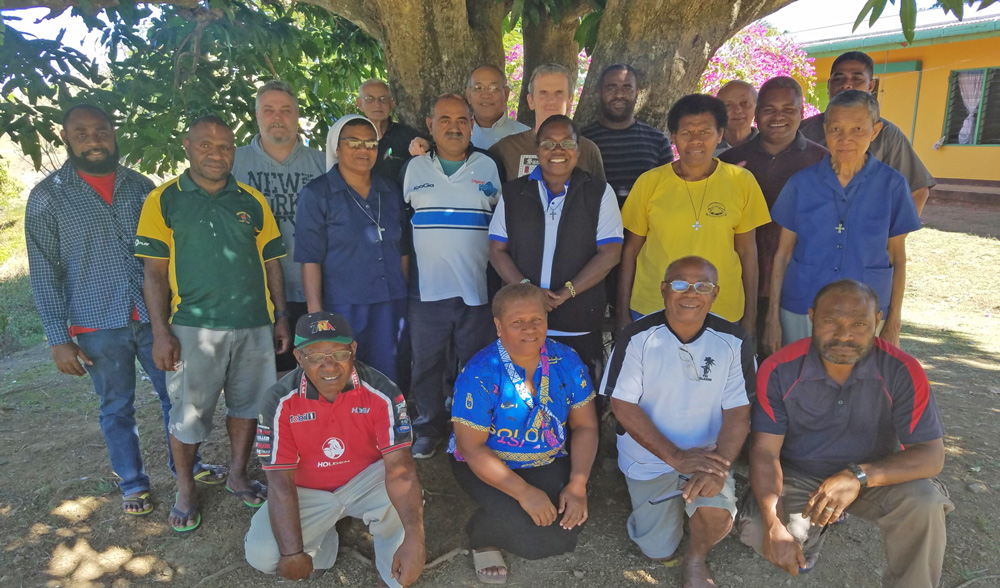 Back Row: Mike Lloyd (NZ); Kevin McGuire (dir); Paulo Amato (Tonga); Dermot English (NZ) Isaia Wairoga (Prov); Lewis Henry (dir); Jacob Aba (Prov); Lolesio Lakai (Tonga)
Middle Row: Br. Dimitry Batick (Vanuatu); John Kagl (Mt. Hagen); Sr. Mareta Vuibau (Fiji); Emiliano Lasaqa (Fiji); Sr. Jeline Giris (Boug); Sr. Lora (Fiji; Sr. Torika (dir)
Front Row: Paul Purul (Mt. Hagen); Ella Matairono (Sols); Paul Waabu (Sols); Paul Gunbi (Mt. Hagen)
Hippolyte Bonou's sesquicentenary at Pouébo
On August 31th, at the invitation of the Principal of Hippolyte Bonou's College at Pouébo, Fr François Grossin, Regional Superior of New Caledonia, took part to the sesquicentenary celebrations of the death of the first Christian Chief of the Mainland, Hippolyte Bonou.
The event was organized by the school and the parish which had been in the hands of the Marist Fathers since its very beginnings (1846) until July 1st, 2016.
Fr François was joined by Br Visesio Teugasiale sm of the North SM Community based in Koumac, and by the diocesan priests of the East Coast who took over from the Society.
Fr François was the main celebrant and gave the homily. Later on he gave a talk on Hippolyte Bonou, who died in exile at the Island of Pines at the young age of 34, for sending a letter of protest to the French Governor Guillain, a notorious anticlerical who wanted to destroy the Catholic faith and the "Marist Missions" which were expanding quickly in the Pouébo area through Hippolyte's zeal.
150 years later the parishioners of Pouébo and the Island of Pines keep alive his memory, and continue to pray for his cause of beatification.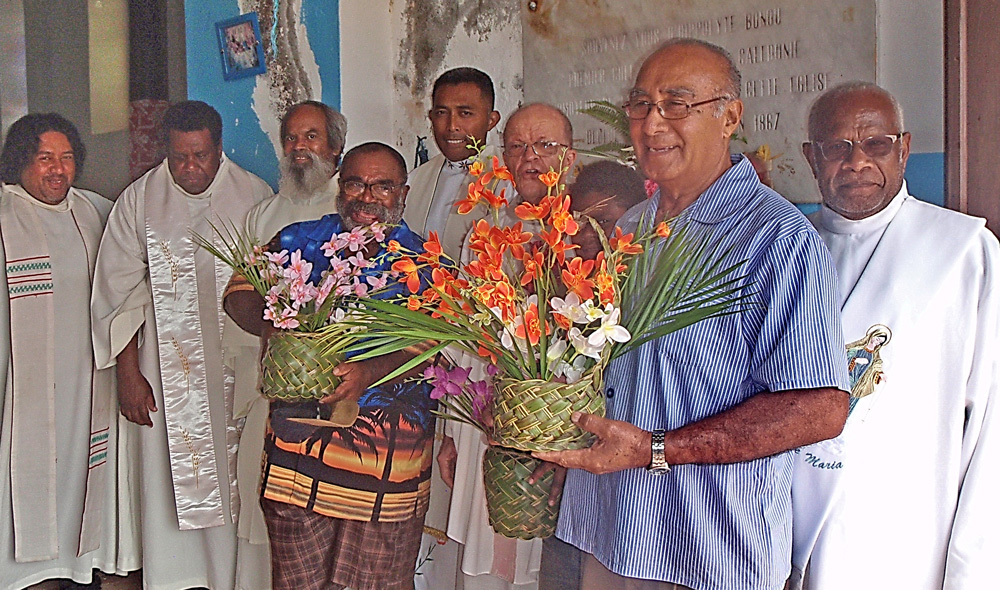 Above: After the Eucharist, Br Visesio, a school boy and a local Chief presenting baskets of flowers in front of a Hippolyte Bonou's relic at the entrance of the Pouébo church, which he started to build as a memorial of the conversion oh his people to the Catholic Faith.

(Priests and permanent Deacons were, L-R: Cyprien Setiano, Vincent Vireial, Giovani Douyère, Jacques Suta, François Grossin, Laurent Naaoutchoué)
Above: Chief Bonou initiated the works of the present church as it is recalled on a wall of the College. Right: Two Marist representatives: Br VisesioTeugasiale and Fr François Grossin.