Feast of the Faith in New Caledonia
Every second year the Catechism Teachers of New Caledonia, called in French "catéchètes", celebrate their faith at Bourail, the second town of the country at the crossroads of the Mainland, but significant groups came also from the outer islands by plane or by boat.
This year they were 237 of them to do so on October 14-15, mainly "middle age" women but also some men and youth.
The Saturday Eucharist was presided by the Regional Superior, Fr François Grossin.
A branch of the Marist Laity called Speranza Marista made up with young boys and girls of Paita parish, have been asked to lead the Sunday Eucharist presided by Abp Calvet of Noumea and Abp Cottanceau of Tahiti who were on their way to Wallis.
It was also the opportunity for a last welcome to a Pilgrim Statue of Our Lady of Fatima which has been touring the Diocese since December 2016, on this Centenary Year of Fatima. Our Lady is much loved in New Caledonia: it was obvious on that weekend. She keeps telling her children: "Do whatever my Son tells you! Go to my vineyard". It is what our "catéchètes" are doing with great faith and abandon to God's will. God bless them all and all the ones they evangelize.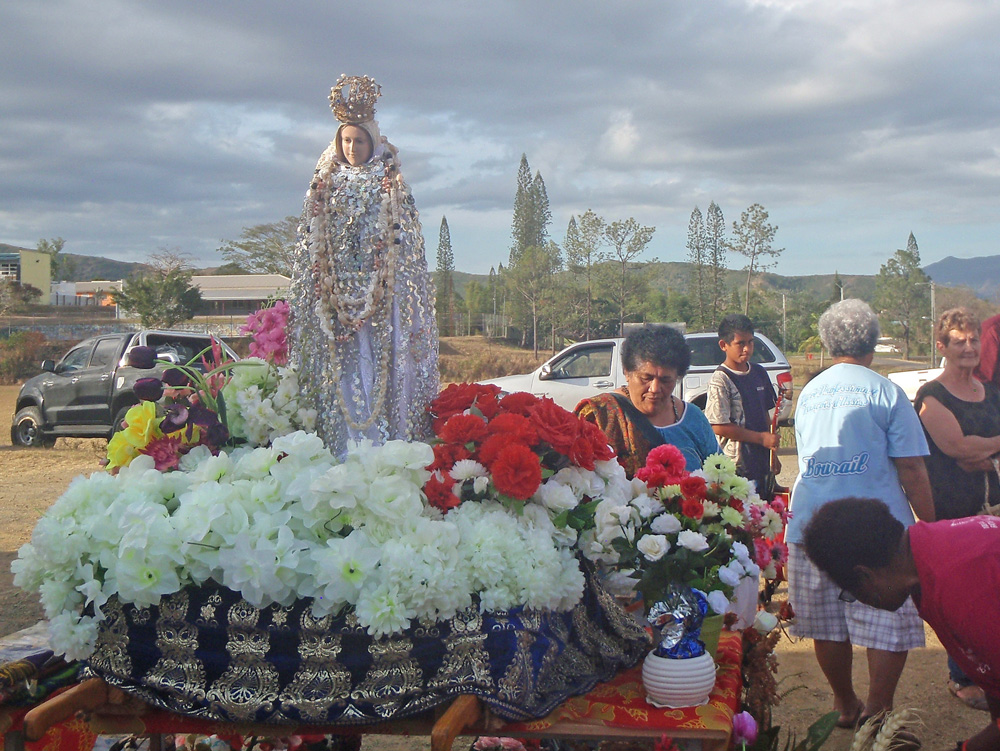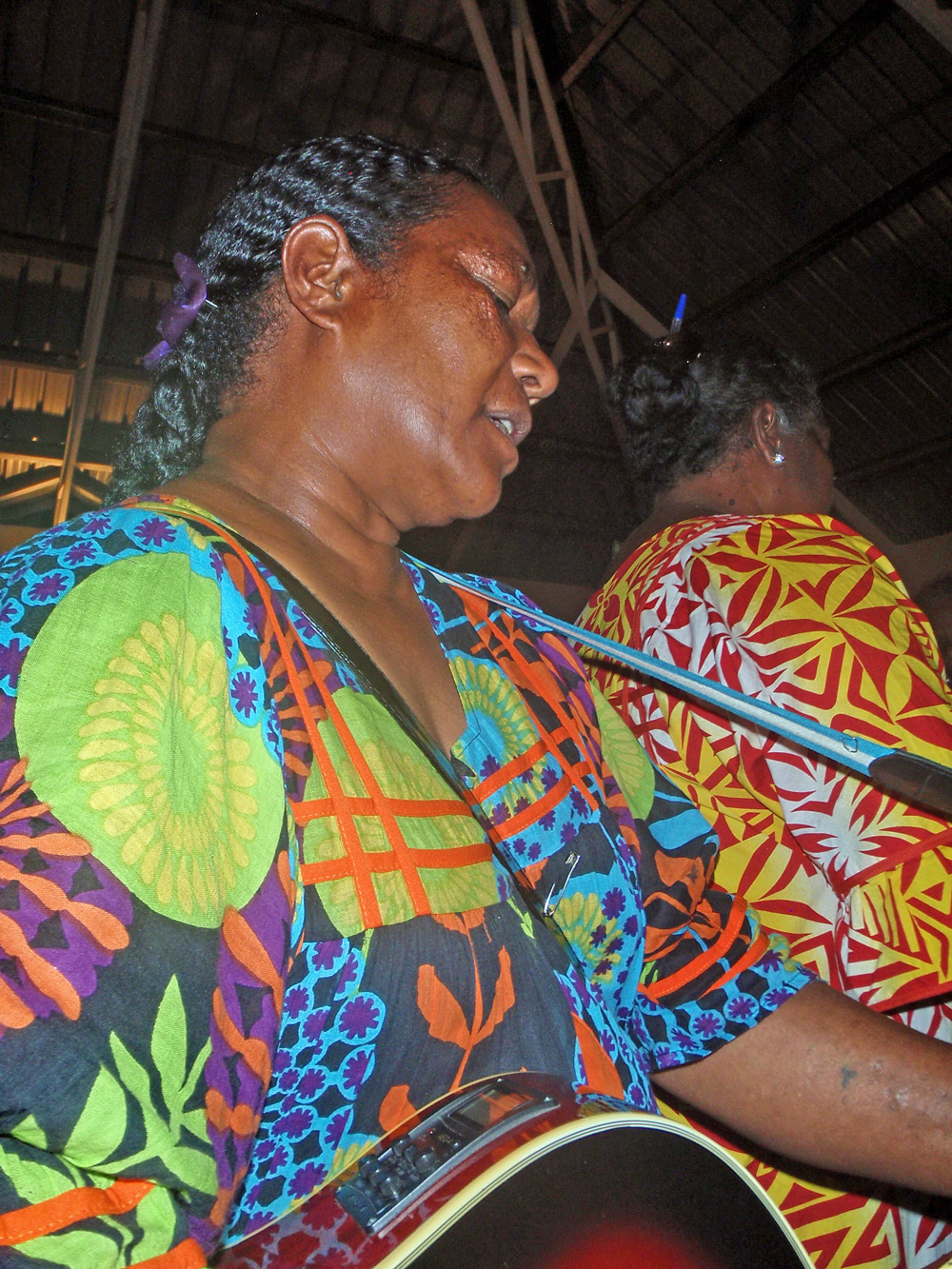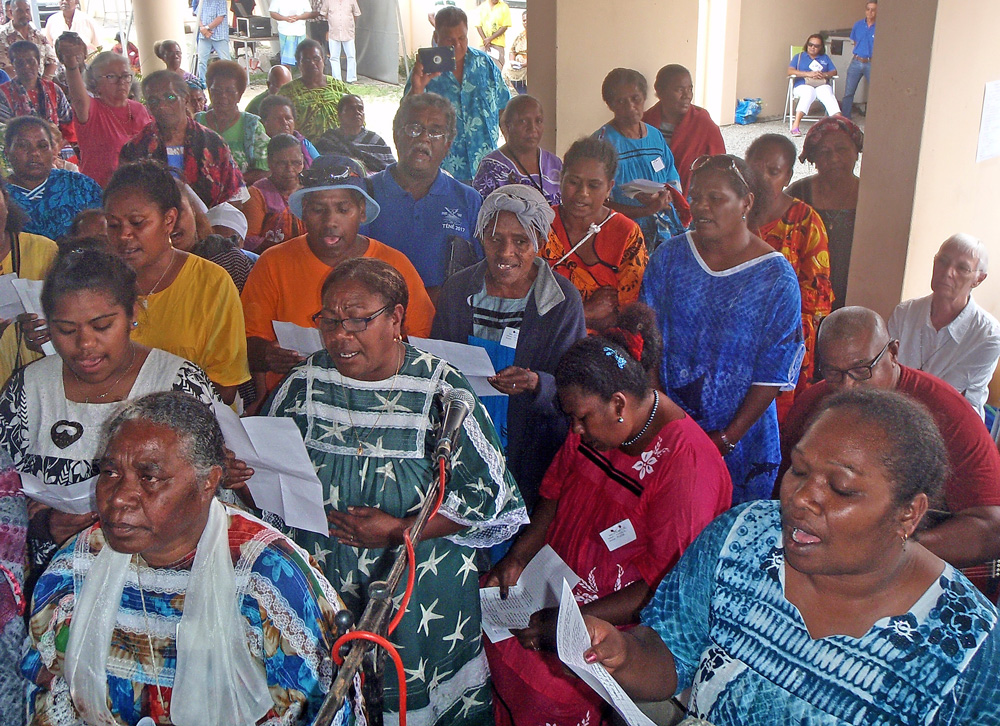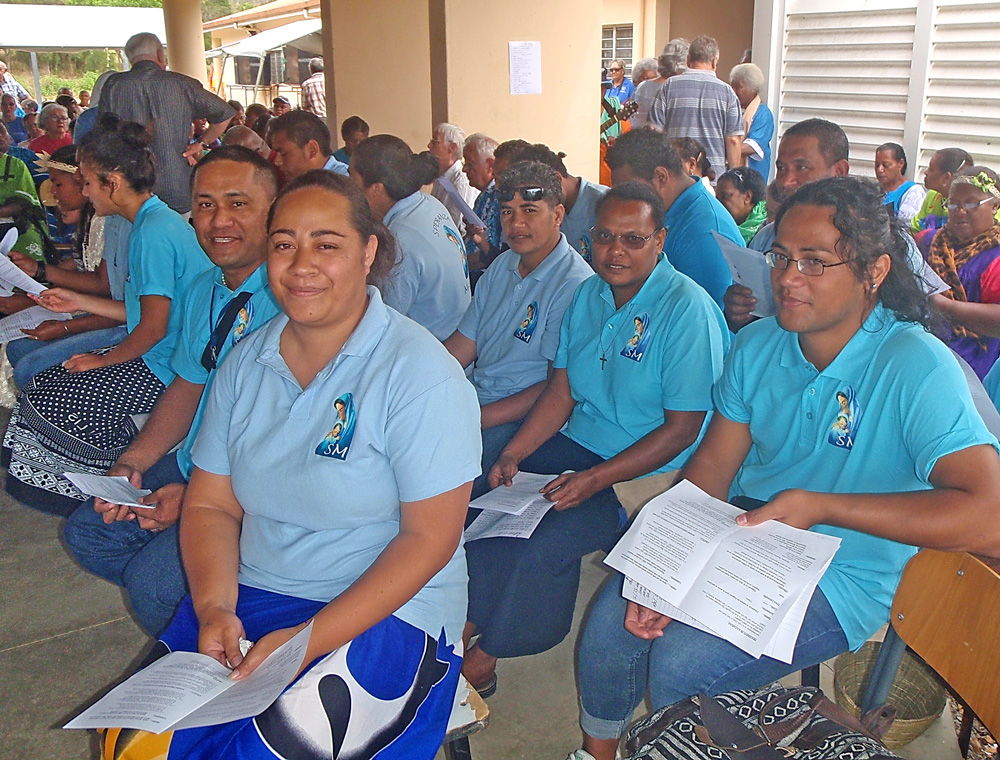 Oceanians at Casa di Maria
At the Marist International Theologate in Rome the seminarians are well into their academic studies for the year. Two weeks of classes have been completed.
Now the community is back up to its full size with the return of the formators who were present at the General Chapter.
Fr Tony Kennedy sm from Australia, who was formerly at Marist College in Suva, is now the acting superior following the election of Fr John Larsen as the new Superior General.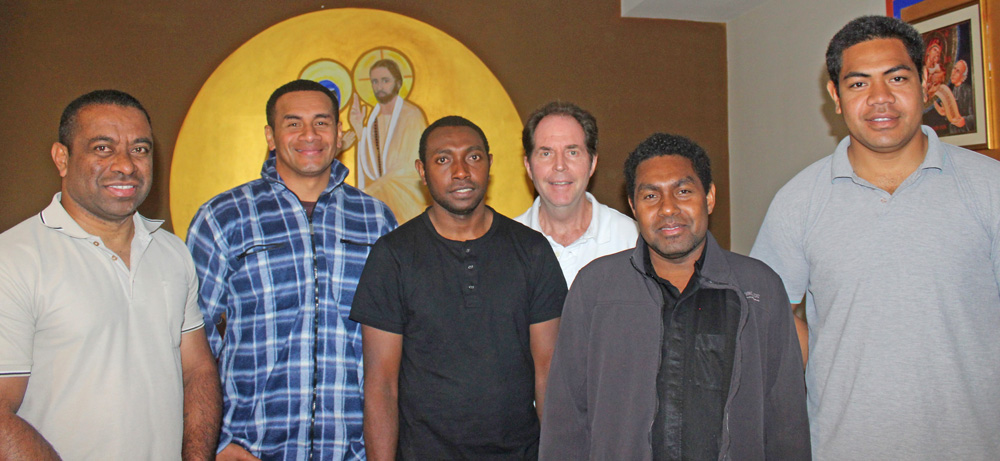 Above: Oceania formators and seminarians with their former provincial, Fr Ben: Donato Kivi, Samuela Tukidia, Floyd Gatana , Ben McKenna, Patrick Woria and Soane Hehea. Below: Oceania formators and seminarians with the new acting Superior, Tony Kennedy. Further below: Acting Superior Tony Kennedy and the whole Casa di Maria community.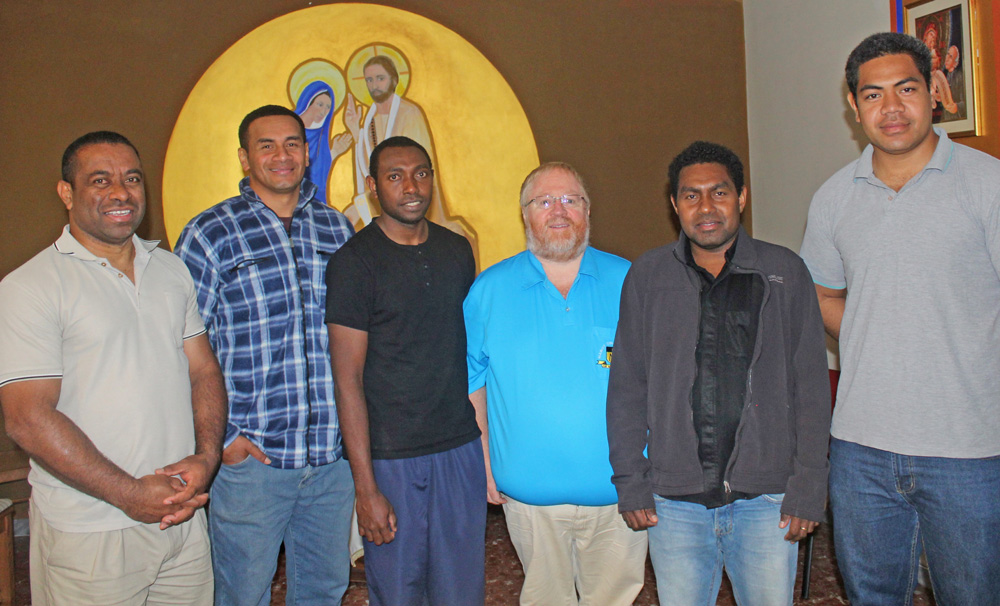 Fr Sete, Acting Provincial
From Nemi,and the General Chapter, Fr Ben McKenna reports:
'Fr Setefano Mataele has now been appointed by the Superior General, John Larsen, to be the Acting Provincial as from now, until he takes up his role as Provincial of Oceania on 01.01.18. Fr Susitino Sionepoe will continue to be the Vicar Provincial.
'Setefano and I leave Rome on Oct 14, and arrive in Fiji on Oct 16. I then need to apply for my Visa for Rome, and the plan is that I be back here in mid-November.'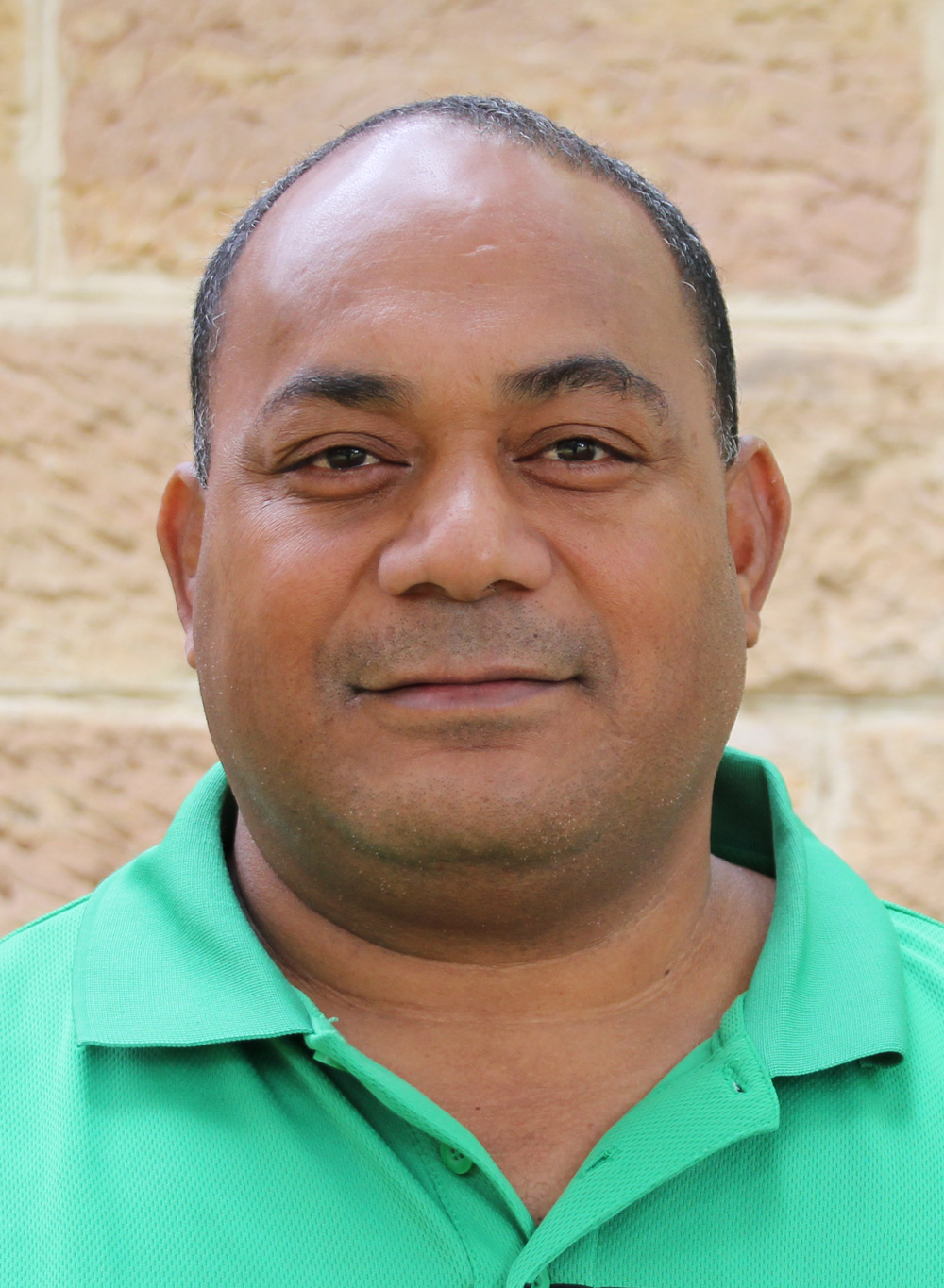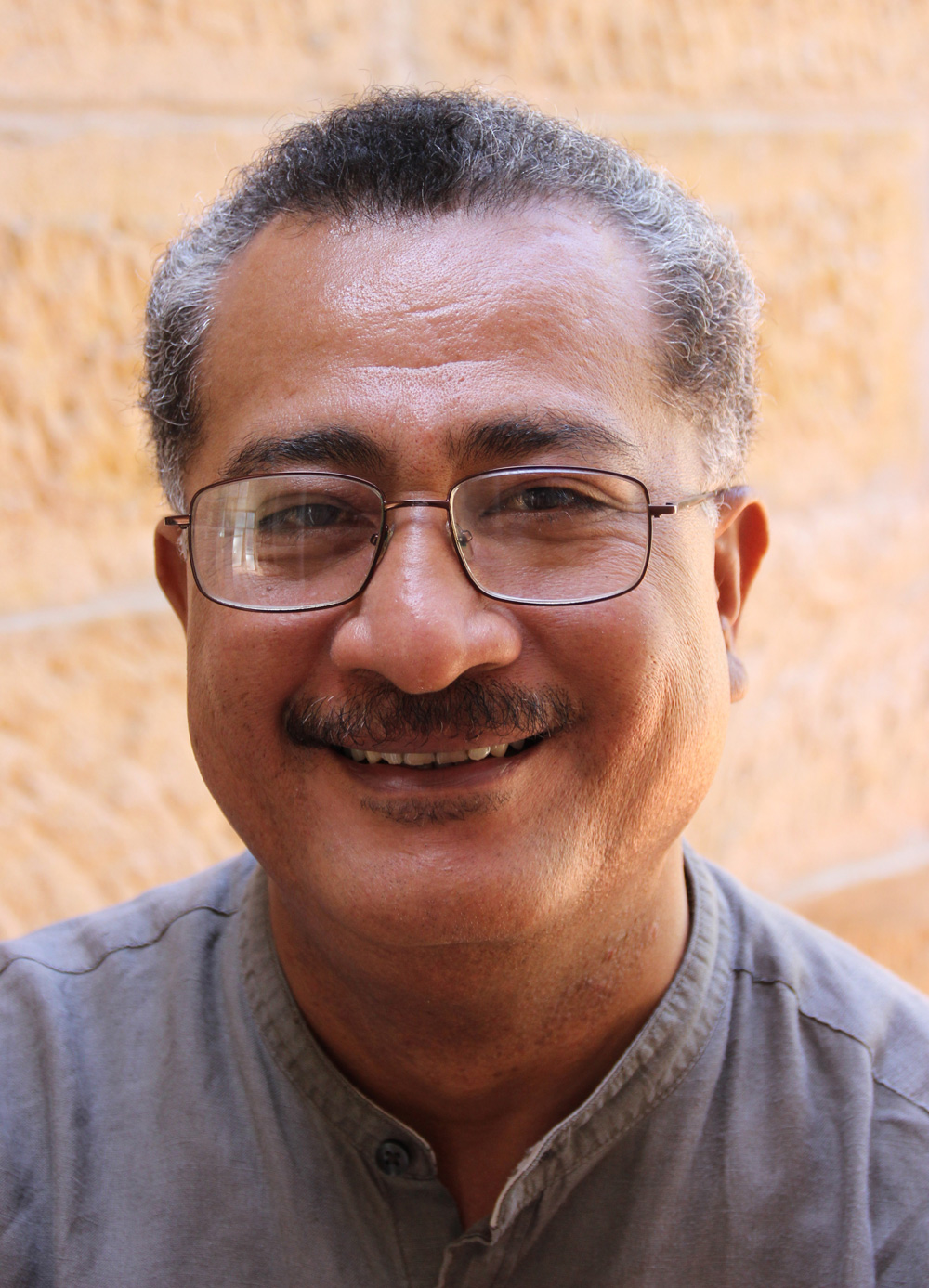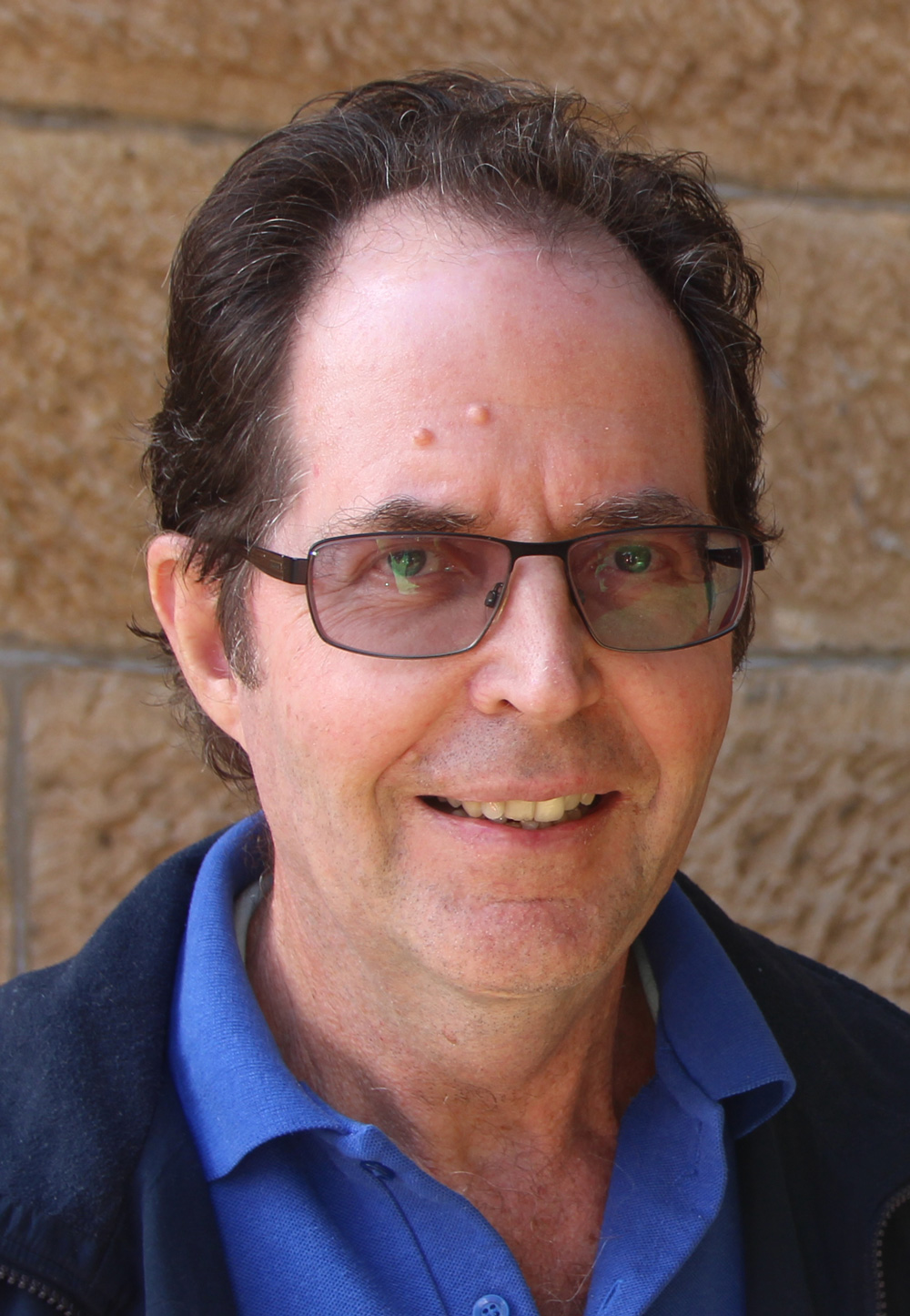 From left: Fr Setefano, Fr Susitino, Fr Ben
Tomo pilgrimage
Sixty kms north of the capital city, Nouméa, is a small town called Tomo, which depends on the Sacred Heart parish of Païta. A shrine to St. Therese of Lisieux was established there by a Marist Father, Adrien Noblet, 81 years ago in gratitude for her protection during an epidemics of leprosy.
Every year, on the first Sunday of October, a pilgrimage keeps the tradition alive and brings together thousands of people.
This year, for the third time, Archbishop Calvet took this opportunity to give the sacrament of confirmation to the youth of Païta parish at the shirne; they were more than one hundred of them; a few were also baptized and received the Body of Christ for the first time.
Fr François Grossin sm gave a hand to the Archbishop for that memorable celebration.
St. Therese pray for peace in New Caledonia and in the world.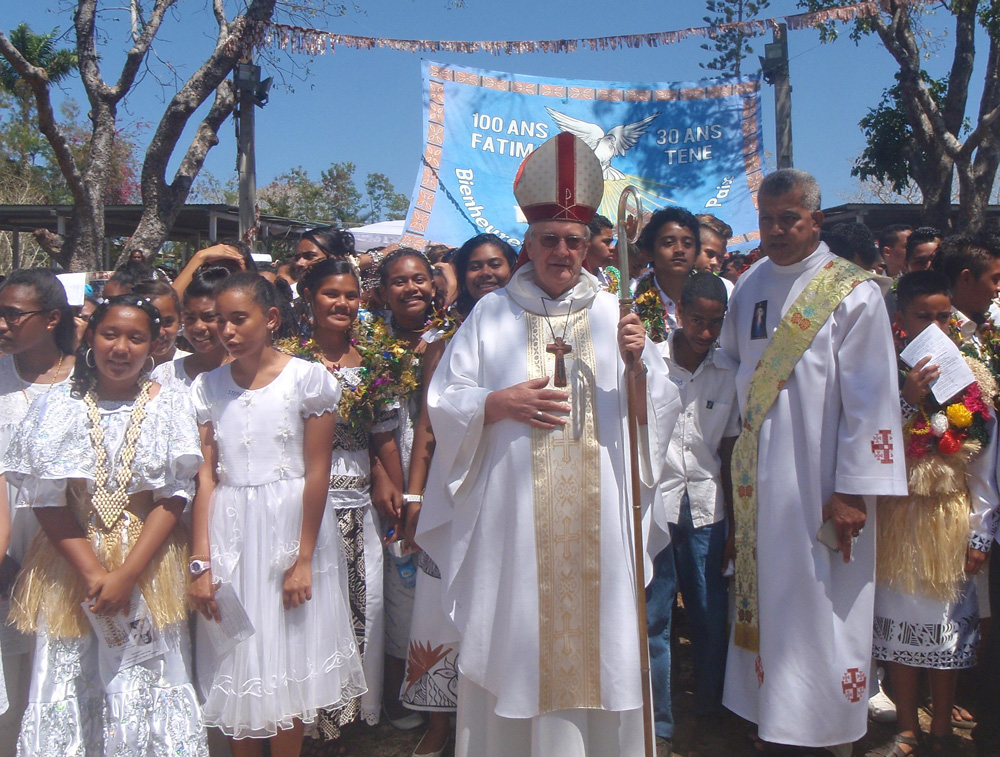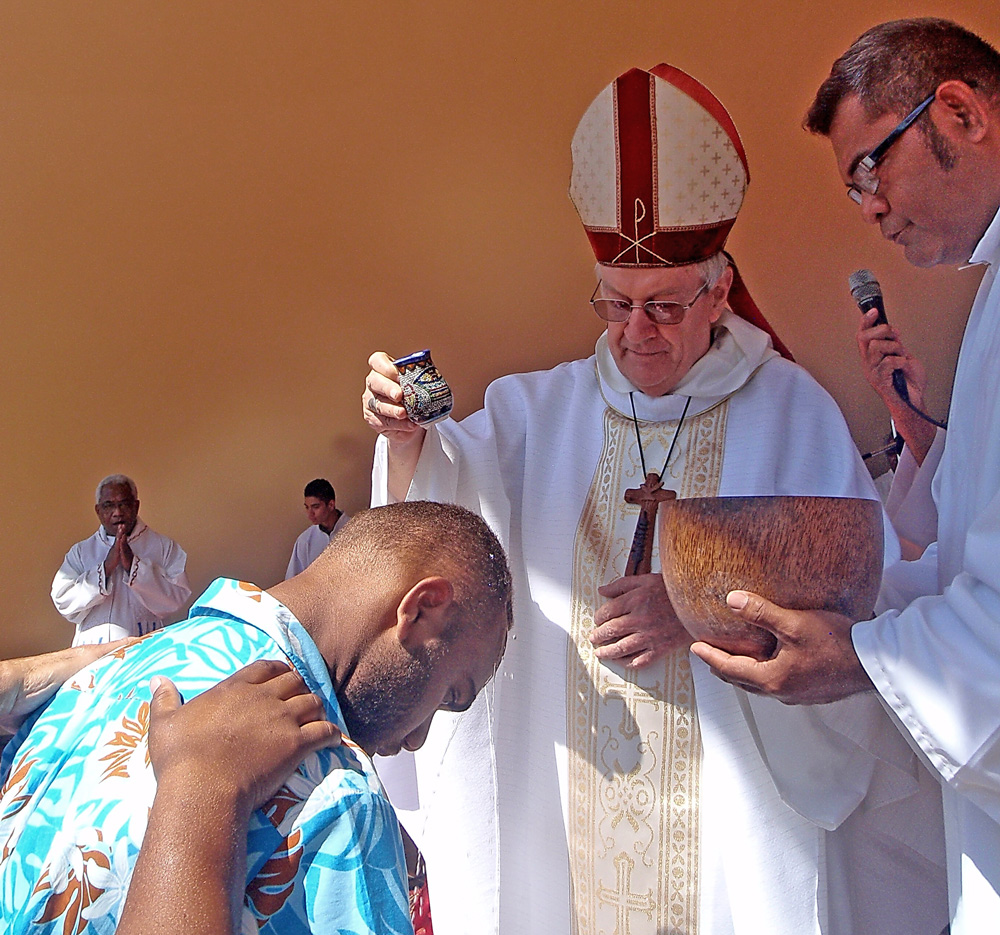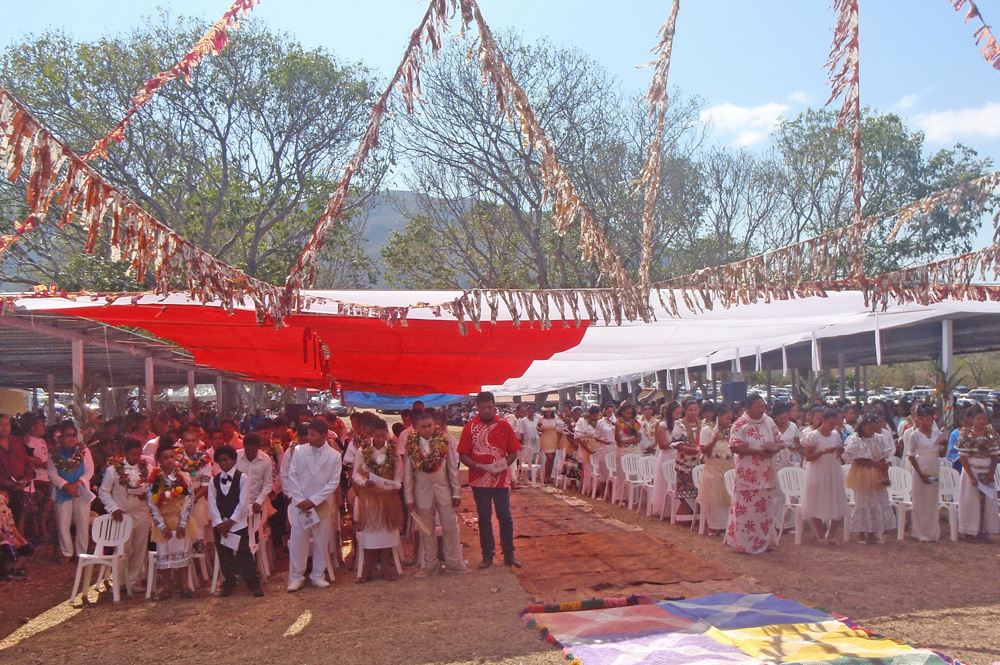 Scenes from the Tomo pilgrimage, confirmation and baptisms.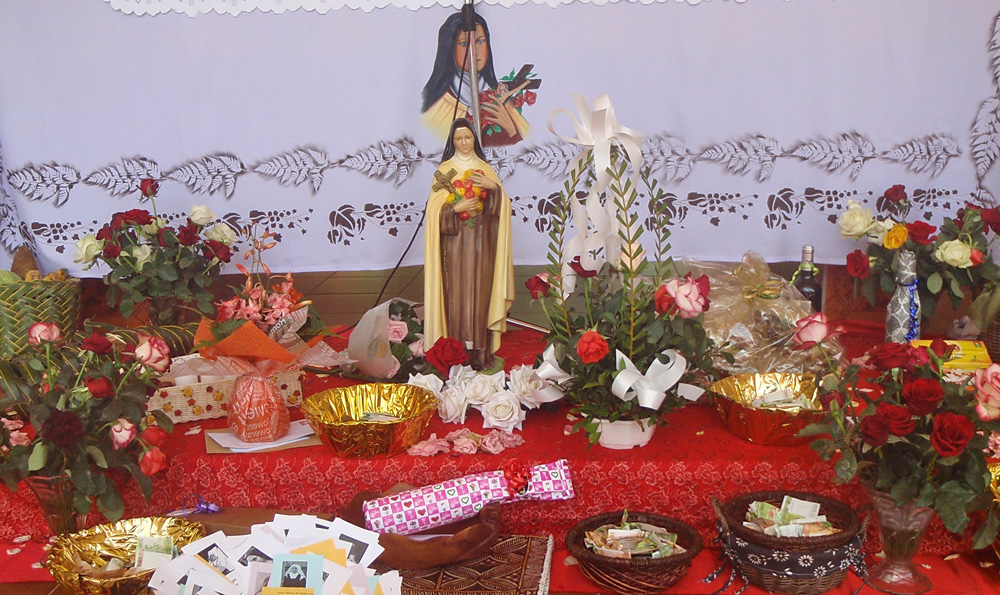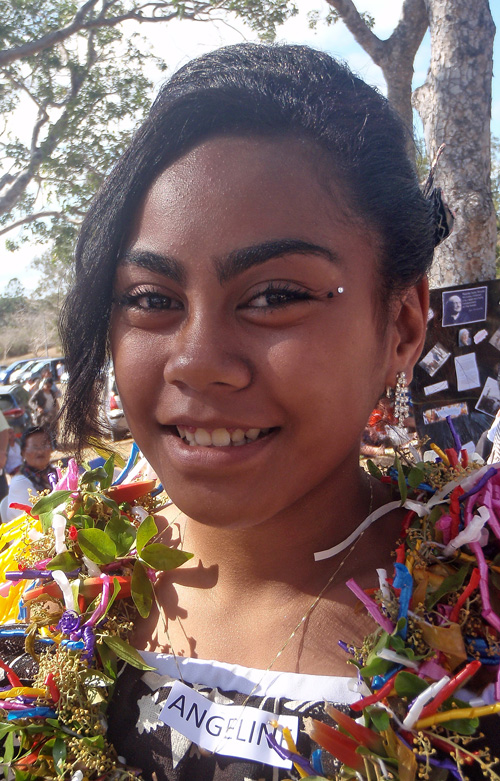 Oceania Provincial now Assistant-General
Fr Ben McKenna is one of the four Assistants-General elected at the General Chapter, Nemi, Italy, to lead the Society of Mary with its new Superior-General, Fr John Larsen.
The new Assistants-General are Frs John Harhager (USA), Ben McKenna (Oceania), Juan Carlos Piña (Mexico) and Paul Walsh (Europe). Fr Harhager has been elected as Vicar-General.
The elections were held during the Oct 06 sessions of the General Chapter at Nemi, Italy, and the news released in a special bulletin.
Congratulations to Frs John, Ben, Juan Carlos and Paul !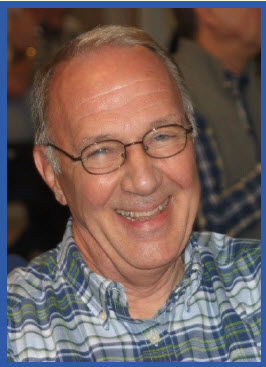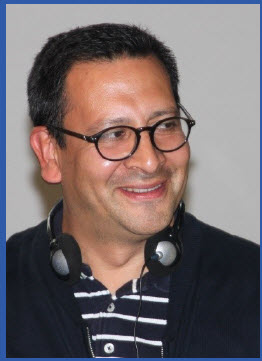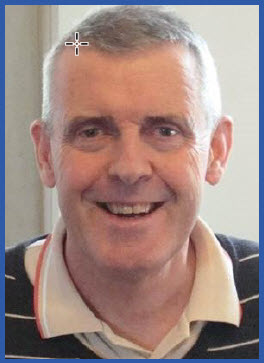 From left:
Frs John Harhager
(V-G),
Ben McKenna
,
Juan Carlos Piña
and
Paul Walsh
.
Fr John Larsen, new Superior-General
From Nemi, Italy, comes the news that Fr John Larsen SM has become the 14th Superior-General of the Society of Mary. After days of prayer and discernment, the Marist Fathers' General Chapter members cast their votes on Sep 30.
NZ-born Fr John (62) succeeds retiring Superior-General, Fr John Hannan, and brings extensive experience from mission work in Asia and recent leadership of the international theologate, Rome.
In coming days elections will continue to elect four assistants for the new General.
Congratulations, Fr John! Our prayers go with you. [For more details, see 'SM Bulletin', click here.]
Scenes at the General Chapter, immediately after Fr John's election, including the symbolic handing over of office by retiring General, Fr John Hannan.