Port Vila's Golden Jubilee celebrations at Port Olry
Fr Paul Molbwet sm reports on the 50th anniversary celebrations in Port Olry of the diocese of Port Vila, Vanuatu.
Click here for the full illustrated report
There are photos of our three confreres, Paul Molbwet, Louis Maite, and Godfrey Pa'asi.
Fr Ben McKenna adds: 'Congratulations to the Diocese and all those who contributed in building it up - especially the Marist Missionaries.'

Ordination of Lutoviko 'Olie
Lutoviko 'Olie, aged 28, was ordained to the priesthood on 29th June, at Pea, Tonga, by Cardinal Soane Patita Paini Mafi.
Pea was the first village to receive the Catholic faith, in 1842, from Fr Chevron sm, and Br Attale sm. So Lutoviko's Ordination tied in with the 175th Anniversary of the Catholic Church in Tonga.
Lutoviko entered Marist College Suva in 2008, he made his Novitiate in Tutu in 2010, and obtained his Diploma in Theology in 2011. He attended Corpus Christi Teachers College in 2012 & 13, graduating with Diplomas in Relgious Education and Teaching. He was Ordained to the Deaconate by Cardinal Mafi, in Suva, on 08 May 2016, and in November last year he graduated from Pacific Regional Seminary, with a Batchelor in Theology - Magna Cum Laude - accredited by the Urbanianum University, Rome.
This Year he is a member of our Apifo'ou Community, where he teaches at Apif'ou College.
Congratulations, Lutoviko !
30th Diocesan Pilgrimage of Téné, New Caledonia
On June 11th, some 2500 people joined the 640 youth gathered on the racecourse of Téné, 170 km north of Nouméa for their 4-day yearly gathering, to celebrate the 30th edition of the Diocesan pilgrimage and the 100th year of the apparitions of our Lady at Fatima.
The thanksgiving Mass was presided by the Apostolic Delegate Abp Martin Krebs as the mainspring of his first visit to the Archdiocese. It has been a memorable event for all, shared by four Marist Fathers and Br. Visesio sm, along with Abp Calvet sm, one of the concelebrants and a joyful and fervent crowd longing for peace (Matt, 5:9).
Above: Fr François Grossin, the SM Regional Superior, lining with some youth to welcome a statue of Our Lady of Fatima touring the Archdiocese since December 2016 until October 2017 | A warm welcome to Our Lady of Fatima.
Below: (R) Mr Antonin Musulamu (ex-SM Brother) had many good reasons to rejoice! | Four Marists pictured after the Eucharist: Abp Calvet and Fr François in front row; Fr Raymond (North Community) in second row (L); Fr Kosema (South Community) in third row (L).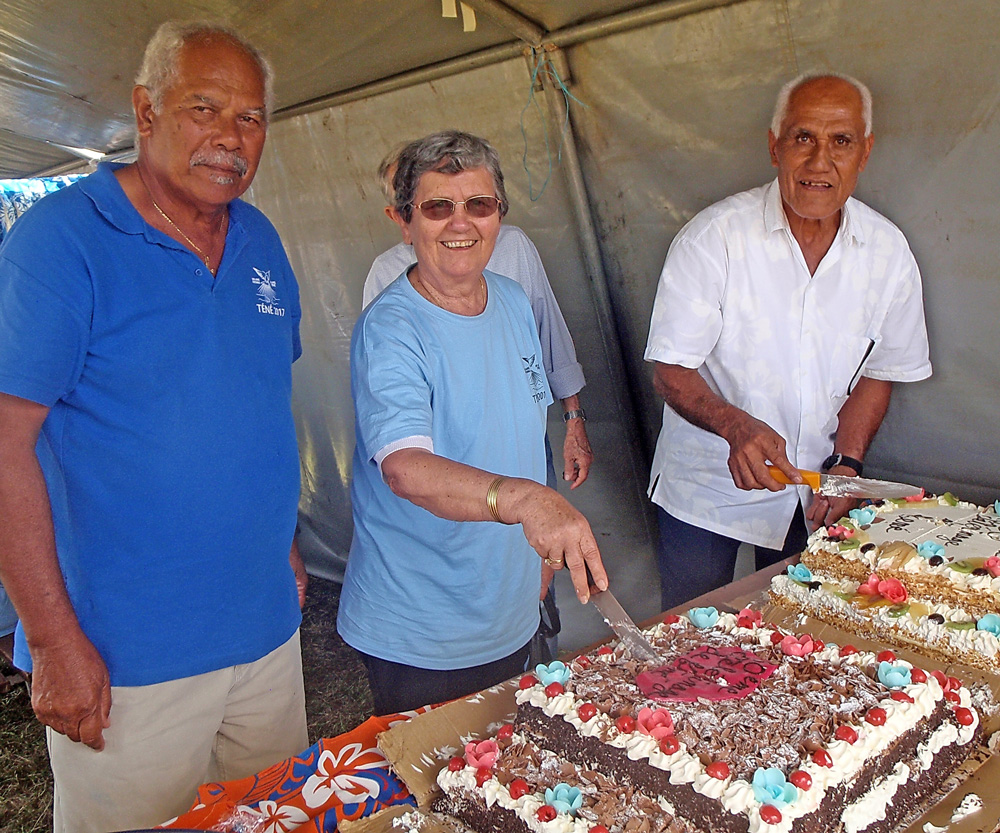 MAP meeting in Wellington
The leaders of Marist Asia Pacific - MAP - met for their annual meeting in Wellington at the provincial offices, 11-14 June. Areas covered included: Reports from each Unit; Collaboration between MAP Units; Shared Personnel within MAP; Formation in Financial Management; General Chapter Preparation; Education Review in OMP; Chirstmas Gifts from MMC; Professional Standards - Key learnings from the Aus Royal Commission.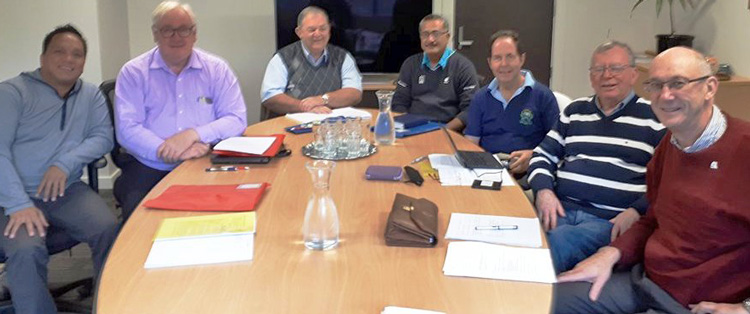 Above, from left: Frs Chris Ganzon [Asia], Tim Duckworth [NZ], Bob Barber [Australia], Tino Sionepoe [Oceania], Ben McKenna [Oceania], Peter McMurrich [Australia] & David Kennerley [NZ].
Below: Reently-renovated church of St Mary of the Angels, Wellington | Fr Tino, 'Lord of the Rings'