Tanna news
From the parish of Imaru, Tanna, Vanuatu, Fr Antoine Tamaraka sm reports:
'Here are some views of the three new classrooms blocks being built at Imaru primary school.
'Also, we had Care International in the parish for four days giving some short courses on village life's skills training, followed by a simple graduation ceremony. Then we had Children's Day on Jul 24.
'We are very grateful for all the life-giving activities in the area, as we continue to recover from what Cyclone Pam left behind.'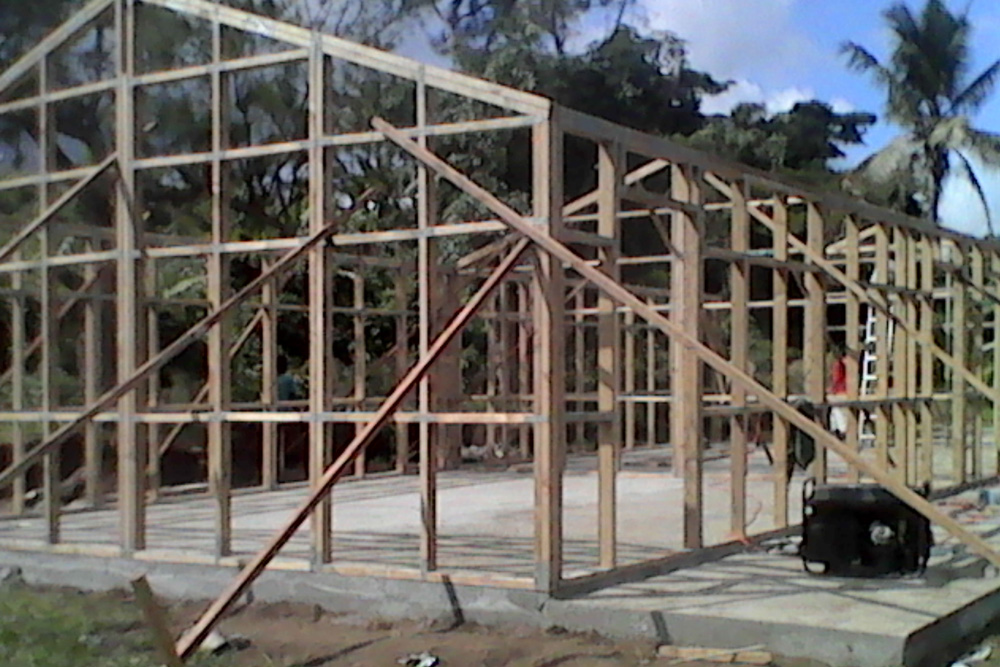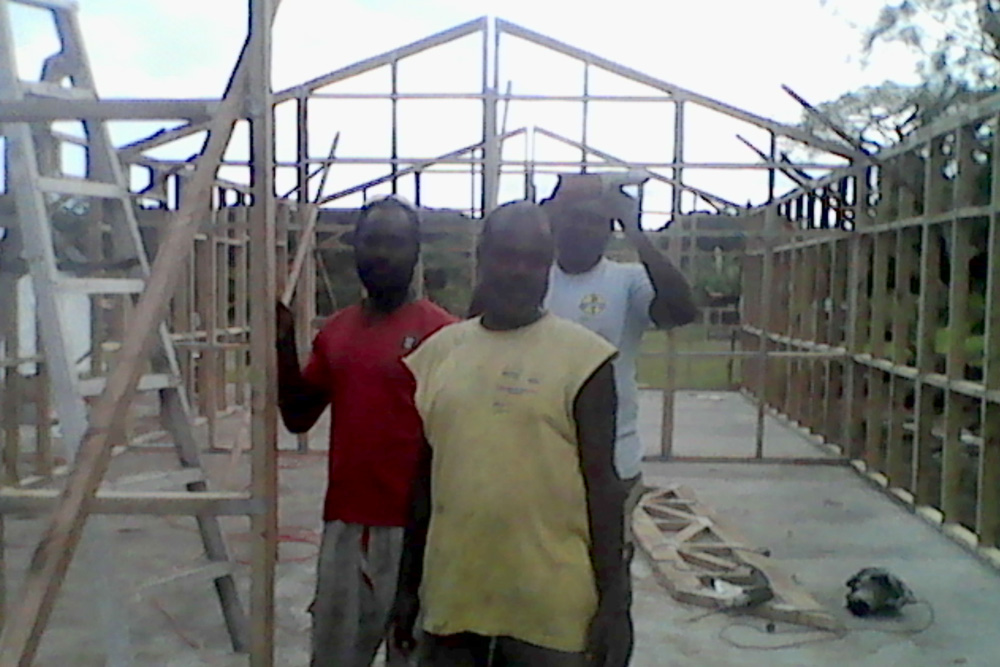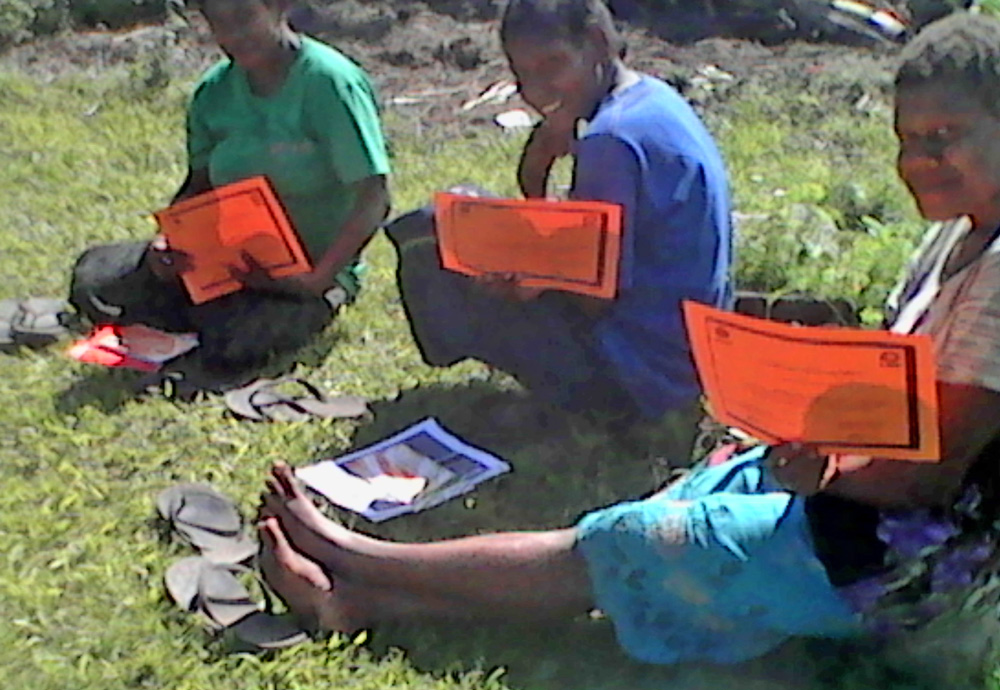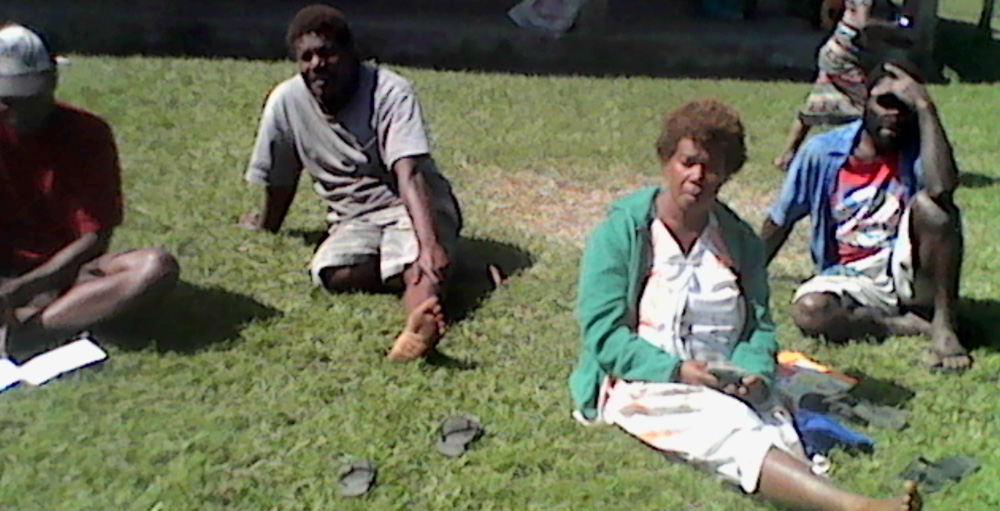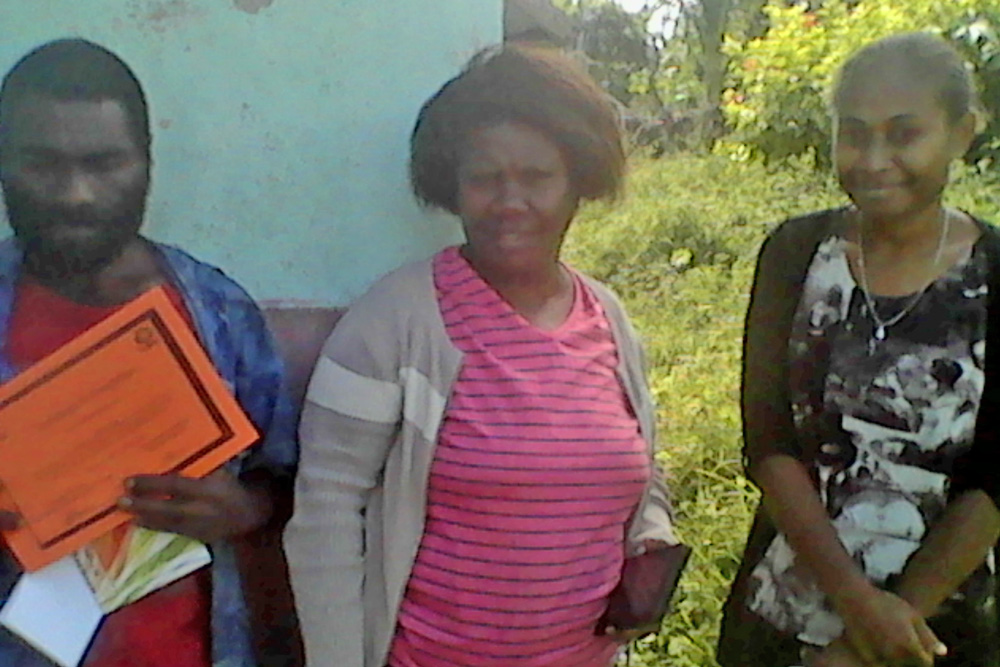 Celebrations in Wallis
A priestly ordination and diamond jubilees were highlights of celebrations in Wallis in July.
On 8th of July, Soane Malivao was (34) ordained priest by Bishop Ghislain de Rasilly sm at the Catthedral of Mata-utu, for the diocese of Wallis and Futuna.
After 7 years of studies at the Seminary "de Saint Sulpice à Issy les Moulineaux", France, Soane consecrates his life to priesthood. He has been appointed by the bishop as vicar of the parish of Hahake
On the Feast of Our Lady of Mount Carmel (16th of July) at Sofala, residence of the SMSM sisters, 3 sisters SMSM celebrated their Diamond Jubillees, 60 years of religious life. They are Srs. Malia Viane, Malia Filomena, both from Wallis and Malia Melesete from Futuna.
Many people attended the occasion, mainly the Third Order and their families. Congratulations, Sisters!
Above: The ordination of Fr Soane Malivao. Below: Bishop Ghislain and Fr Soane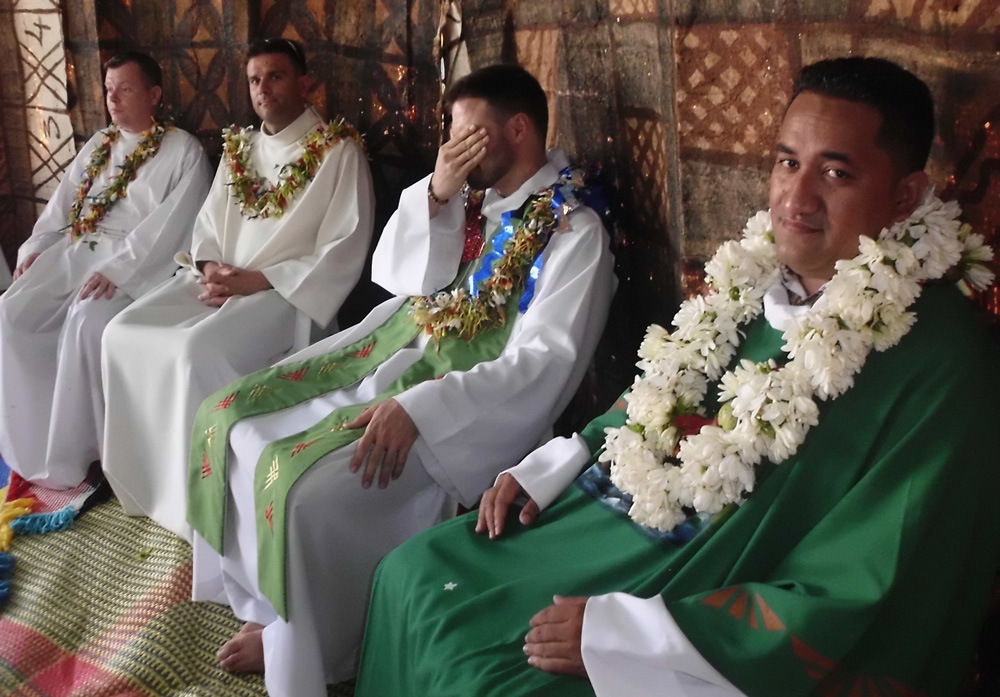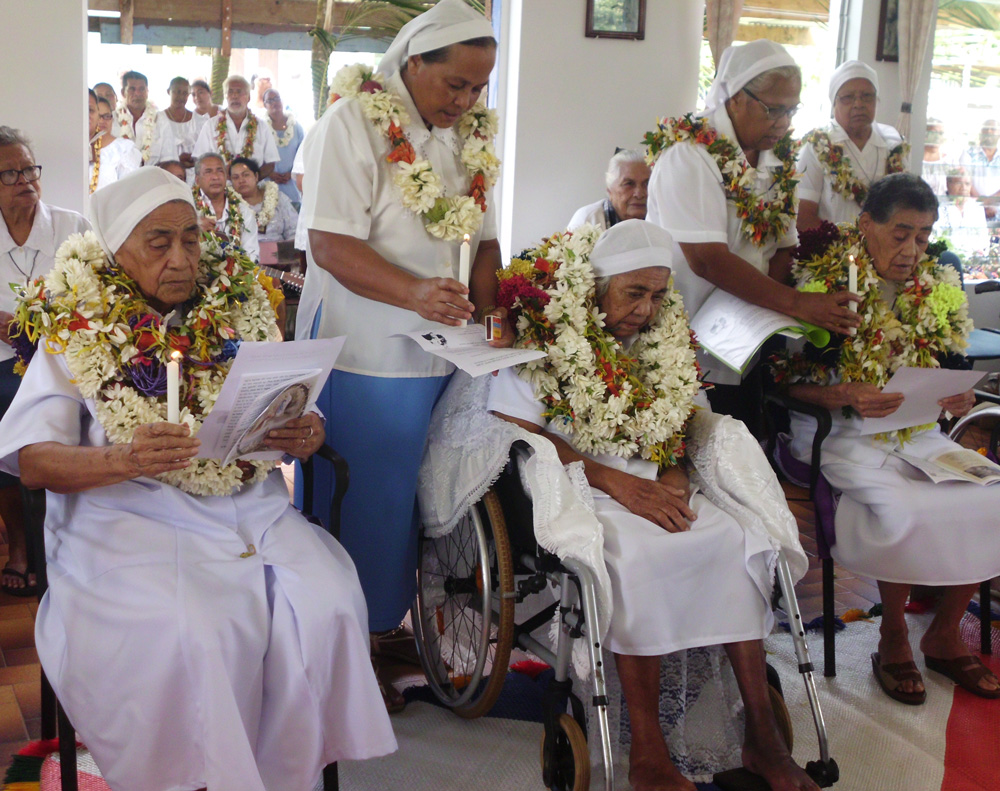 Above, from left: Srs. Malia Viane, Malia Filomena and Malia Melesete.
Solomons retreat
From Fr Robert Taria comes this note:
'The Region of the Solomon Islands recently had their retreat, 02-08 July, at the Visale Mission.
'The retreat had an ecological theme and was given by Fr Neil Vaney sm of the NZ Province who has a Doctorate in Environmental Studies.'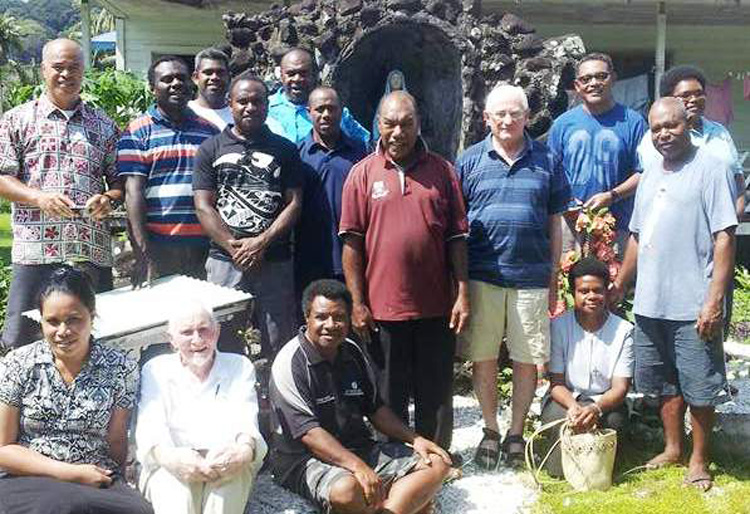 Pictured: Standing: L-R: Frs Patelisio Taufa, Robert Taria, Dennis Levi, Deacon Humphrey Karua, Br Berenado Petero, Br Andrew Wetara, Br Henry Aragalia, Neil Vaney, Lutoviko Manu [Regional Superior], & Br Philip Kanai. Seated: Frs David Galvin & Stephen Posirou.
The fine ladies in the picture are three SMSM Sisters who also attended the retreat.
Vicar-provincial visits Wallis
Fr Susitino Sionepoe, vicar-provincial, was on visitation of Wallis from 1st - 7th July.
Above: Seated: L-R: Brs Clemente Bonhommeau, Jean Marie Kaikilekofe. Standing: Fr Susitino Sionepoe, Br Adrian Lemo, Fr Francois Jaupitre, Brother of Br PC Sekeme, Fr Suni Halapio, Br Peter Chanel Sekeme, and +Ghislain de Rasilly sm, Bishop of Wallis & Futuna.
Formation Committee meets
The Annual Formation Committee Meeting began on Friday 14th July, and continued on Monday 17th July, at "Raiatea", our Provincial Office.
Matters on the Agenda included:
a. The Report of the Superior [Fr M Rayalu] of Marist College, Suva.
b. Reflections and Observations on our Seminarians in Suva, the Novitiate, the International Theologate, and on Marist Mission Experience.
c. Admission of Candidates for 2018.
d. Finance and Development matters.
e: Aligning our Provincial Directory with the International Directory of Formation.
Front: seated: L-R: Formators of Marist College Suva: Jacob Aba [SI], Milikiade Rayalu [FJ], Sione Hamala [TG]. Standing: Michael Fitzgerald and Pio Fong