Vanuatu ordinations
Marist deacons, Louis Maite and Paul Molbwet, were ordained to the priesthood by Bishop Bosco Baremes SM at Melsisi, Vanuatu, on Feb 17.
Louis completed 9 Yrs of Formation at Marist College Suva in 2016, including two years at Teachers Training College.
Paul also completed 9 Yrs of Formation: beginning in Marist College Suva, finishing four years his studies at the International Theologate in Rome in 2015.
Both Louis and Paul are appointed to our community in Port Olry, Santo, Vanuatu. Their primary commitment is teaching. They will also be involved in Parish Pastoral work on week-ends.
Congratulations, Frs Louis and Paul!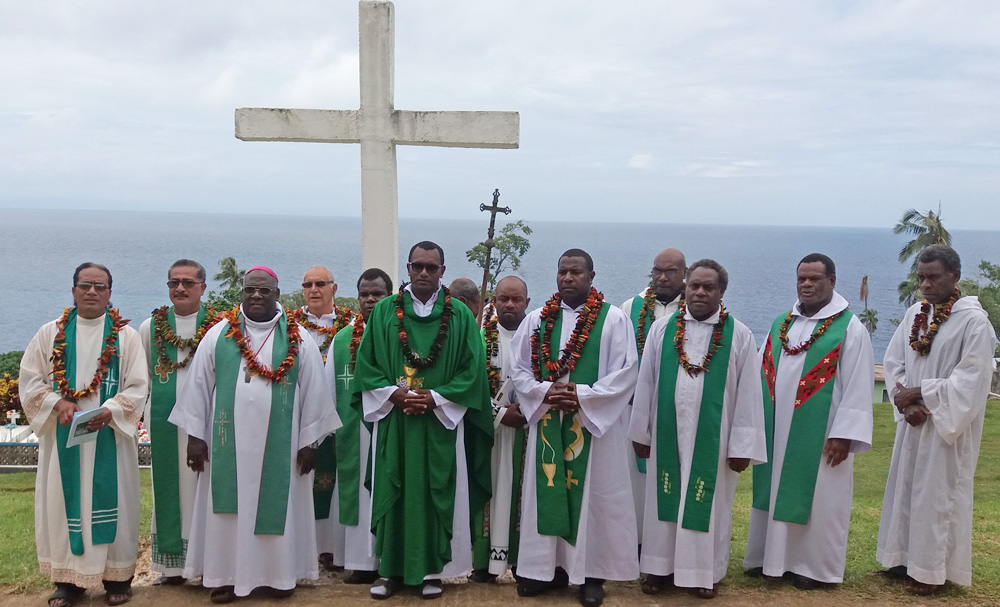 Above: Newly-ordained, Fr Paul Molbwet SM (centre) with Bishop Bosco Baremes and fellow Marists and local priests. Below: Before the ordination ceremony, Bishop Bosco with Louis and Paul, both of whom have their origins at Melsisi where the ordination took place.
Welcome, Fr Alois Greiler
German Marist writer and historian, Fr Alois Greiler SM, is currently visiting Oceania, researching and reading about Marists in the Pacific.
He is staying with the community at Mt St Mary's, Nadi, until mid-May when he will go to New Zealand for a five-week period.
Fr Alois has done extensive studies on the life and spirit of Jean-Claude Colin and is editor of the Marist online journal, 'Forum Novum'. One of his recent publications is the chronology of the life of Fr Colin, an important resource for the Beatification process.
Welcome, Fr Alois!
Above: Fr Alois in Fiji | His chronology of Fr Colin's life
Below: A recent visit with Fr Kevin Kerley in Sydney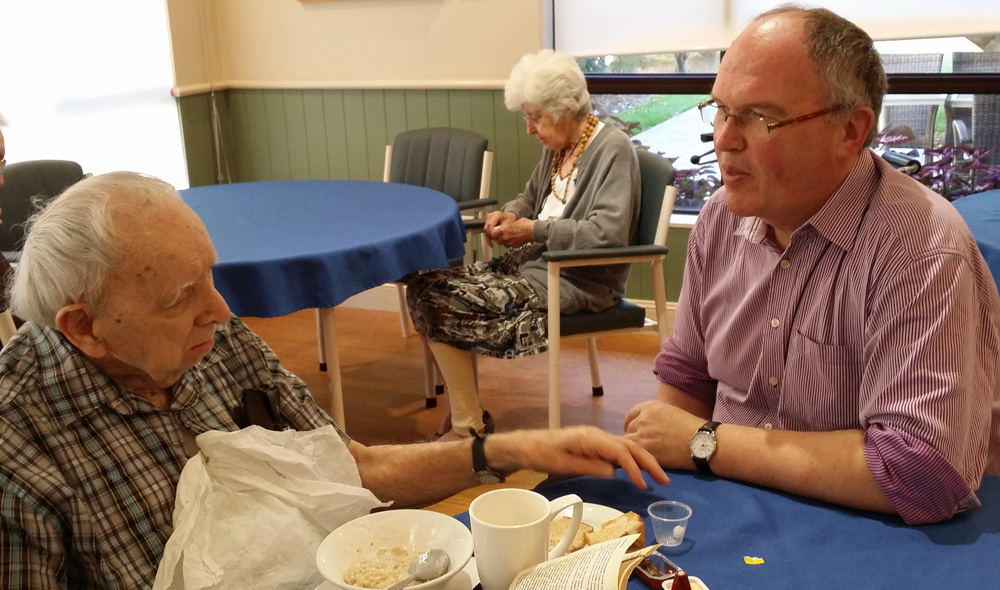 Br Adrien's golden jubilee
In a ceremony described as 'simple but very beautiful', Br Adrien ('Ateli') Lemo sm celebrated fifty years of Marist life on Feb 04.
Fr Suni Halapio adds: During Mass at Lano (Wallis), Br Adrien beautifully read his renewal of vows. The Bishop was the main celebrant at Mass with Fr François, myself, and Fr Soane Fotutata msc concelebrating.
At the following celebrations. Br Adrian did not give a speech, but responded to the MC's request to cut the beautiful cakes prepared for his Jubilee. The MC was Mikaele, Br Peteleo's brother.
Br Petelo and his band entertained throughout the afternoon. Everyone was well fed, and no-one was thirsty, and all were happy.
Religious houses were well represented at Mass at Lano, and at the social at Finetomai. Hihifo Parish was also well represented and added to the joy of Ateli's special day.
[Report from Fr Suni Halapio]
Above:
Br Adrien renews his Marist vows...and cuts the anniversary cakes.

Below:'

Everyone was well fed, and no-one was thirsty, and all were happy.'
Final Professions in Suva
On Saturday, 04 February, two of our Seminarians at Marist College Suva made their Perpetual Profession. They are Mika Tuilau from Fiji, and Peter Puamae from Solomon Islands. They are now in their 9th and final year of formation for Marist Priesthood: 6 Yrs of Academic Studies, 1 Yr Novitiate, and 2 Yrs of Pastoral Formation.
The main celebrant and preacher for the occasion was Fr Susitino Sionepoe sm, Vicar Provincial. The chapel at Pacific Regional Seminary was over-flowing with supporters attending.
The day itself was full of joy and thanksgiving for the grace of God at work in the lives of these confrères, and for their generous wholehearted response.

Above: Peter Puamae signs the profession documents.
Below, from left: Fr Milikade, Peter Puamae, Fr Susitino, Fr 'Aisake Silatolu and Mika Tuilau.
Renovations at St Louis
Important renovation works have been undertaken on the roof the Maranatha Marist Residence of St Louis,New Caledonia, built in the 70's.
They have been delayed because of some violence prevailing in the region. They finished just in time before some very heavy rains.
From now no more need for umbrellas in the community dining room! Most appreciated!
(report from Fr François Grossin)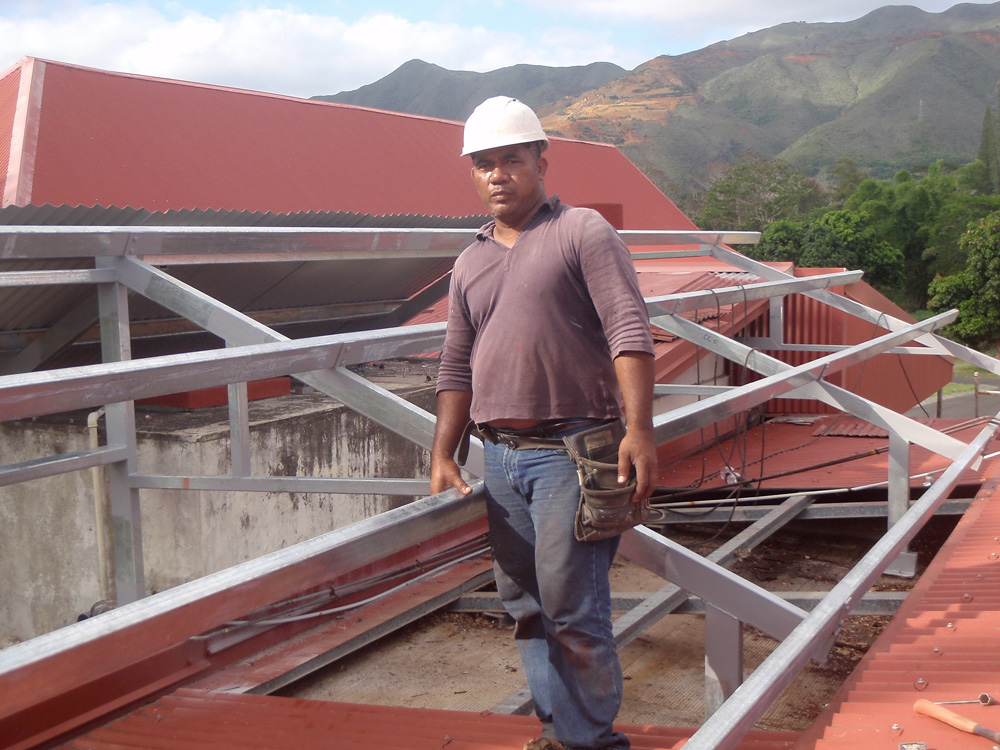 Celebrations at Immaculate Conception
On Feb 2, 2017 the Immaculate Conception church in the periphery of Noumea was full of parishioners of Noumea and Grand Noumea who joined various Religious women and men who were celebrating Consecrated Life, and also the 40th birthday of the local referent priest, Fr Bill Herket sm, from Vanuatu, the new Superior of the South Marist Community.
A youth male choir sang beautifully. It was also an opportunity to farewell Sr Angela Lonardini smsm, from Brescia, Italy, appointed to the SMSM General House in Rome after 47 years of dedication to the local Churches of Wallis and Futuna, Vanuatu and New Caledonia, where she has spent her last 31 years and made many friends. God bless her and all the ones who prepared so well our celebration.
(report from Fr François Grossin)
Above: Arcbishop Calvet blessing the candles
Below:

Farewell

Sr Angela Lonardini smsm (right) | '

A youth male choir sang beautifully'